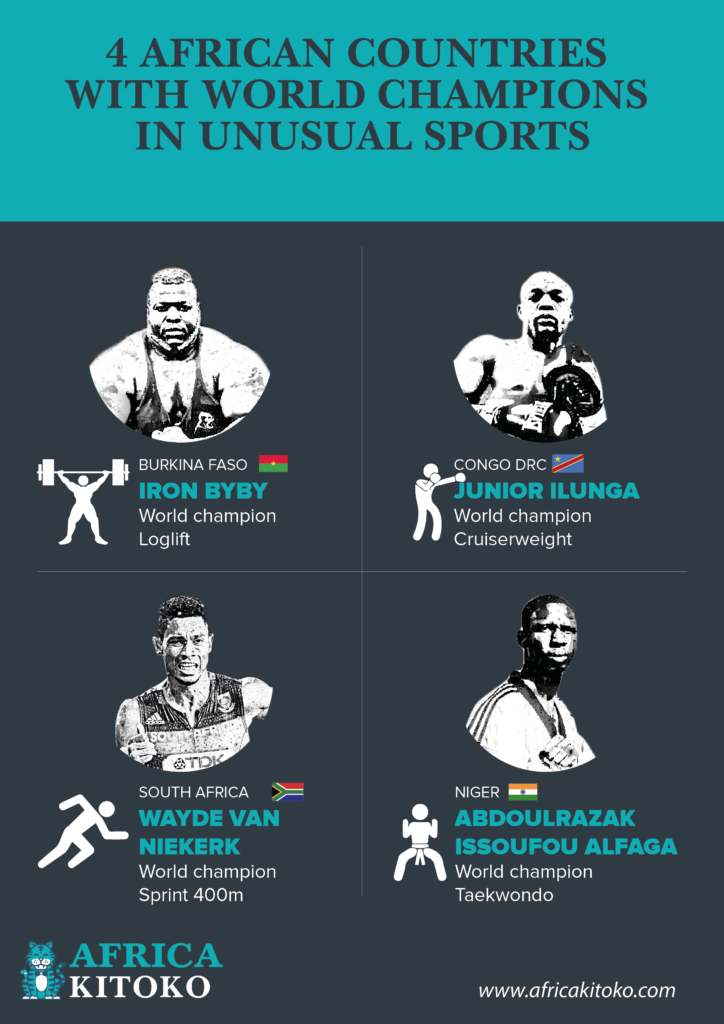 Burkina Faso:
Iron Biby, the colossus!
This 27-year-old Burkinabé has become a world champion of « log lift » by lifting a load of 220 kilos. He measures 1.90m, is 183 kilos, 66 centimeters tall … Iron Biby is a giant. He is the first Burkinabé in the Guinness Book.
Congo:
The exceptional fighter Junior Ilunga.
He is the first Congolese world champion in boxing. With 27 wins including 24 by knockout and only two defeats in a total of 29 fights, Junior Makabu Ilunga confirms to be the rising star of Congolese boxing.
South Africa :
Wayde van Niekerk born July 15, 1992 in Cape Town is a South African athlete, specialist in sprint events. World champion in 2015 in Beijing and in 2017 in London, he won the Olympic title in Rio de Janeiro in 2016 by breaking the world record in the 400 m in 43 s 03: he improved the 43 s 18 of the American Michael Johnson completed in 1999. Since June 28, 2017, he has also held the world record for the 300 m in 30 s 81, improving Michael Johnson's 30 s 85 from 2000.
Niger:
Abdoulrazak Issoufou Alfaga, born December 26, 1994 in Niamey, is a Nigerian taekwondoist.
He started taekwondo at the age of six. His practice was interrupted by the wishes of his family, but he returned to it while he was living abroad. He was crowned world champion over 87 kg on June 29, 2017, and was a bronze medalist over 87 kg at the 2018 African Taekwondo Championships. He is the first Nigerian to participate in taekwondo events at the Olympic Games .