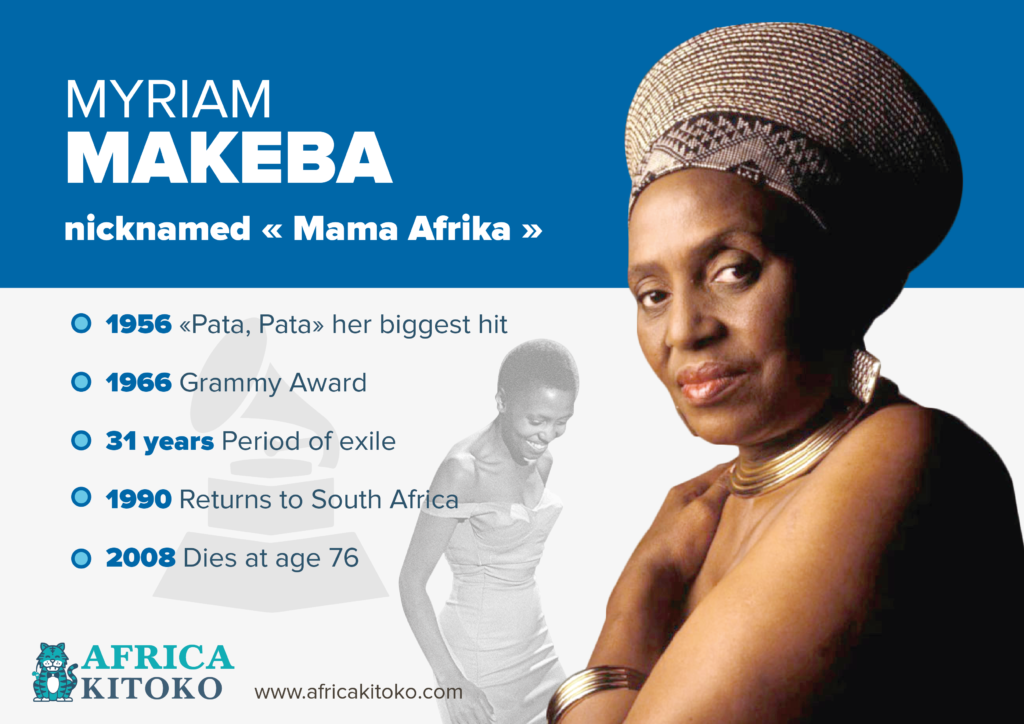 Her full name is Zenzile Makeba Qgwashu Nguvama. She is also nicknamed « Mama Afrika ». She was born March 4, 1932 in Johannesburg, South Africa and died November 9, 2008 in Castel Volturno, Italy, she is an ethno-jazz singer and a South African political activist, naturalized Guinean in the 1960s as well as Algerian in 1972.
She begins to sing, almost by chance, with the Cuban Brothers and becomes a star, using music to denounce the apartheid regime.
In 1956, she wrote her greatest success, the song Pata Pata, with which she toured the world. In 1966, Makeba received a Grammy Award for his disc An evening with Harry Belafonte and Miriam Makeba.
She was forced into an exile that would last 31 years, due to her appearance in the anti-apartheid film Come Back, Africa by American filmmaker Lionel Rogosin. She leaves the United States for having married one of the founders of the Black Panthers movement. The then president of Guinea Sékou Touré granted her a diplomatic passport and she acquired Guinean nationality.
In 1990, Nelson Mandela persuaded her to return to South Africa. Since then, the Miriam Makeba International Prize has rewarded artistic creativity on the African continent.