AFRICA 35 UNDER 35 — 2020 EDITION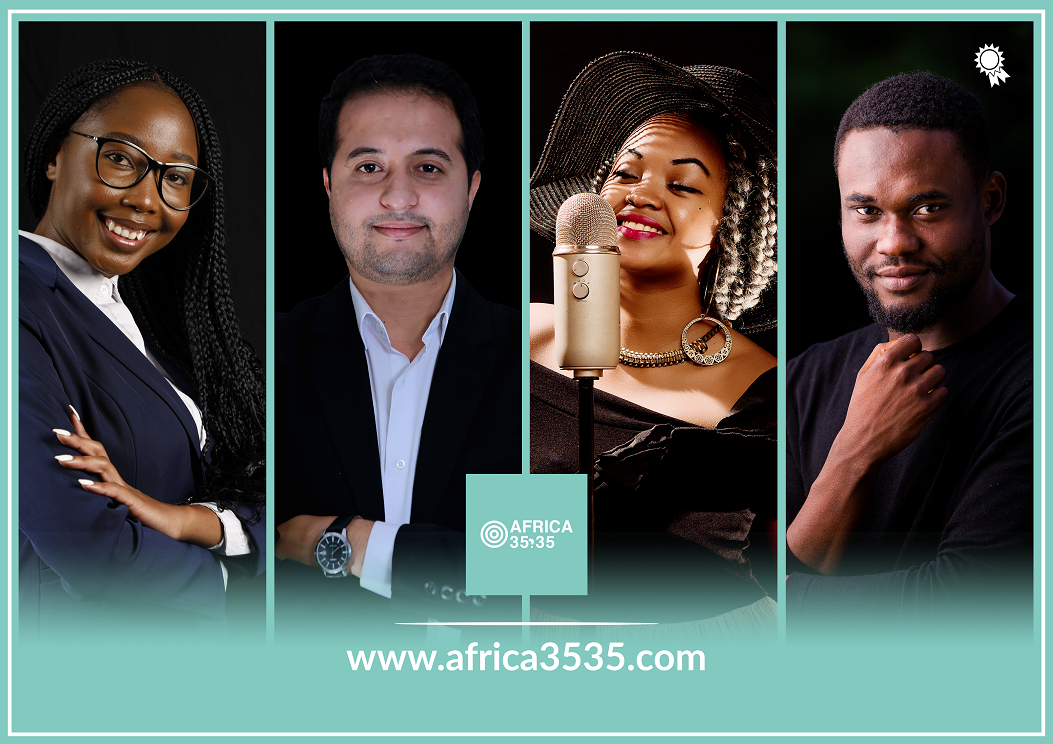 35 young Africans aged 18 to 35 as well as 3 young African personalities outside this age bracket (special prizes) are the winners of the Africa 35.35 Awards, given each year to recognize the exceptional merit of some of Africa's leading young changemakers.  
For a 5th consecutive year, we are pleased to unveil Africa's 35 Under 35 list. These 35 young talents stand out on the continent and in the world, they are:
TV AND RADIO PERSONALITY
Canary MUGUME, 28 yo, Uganda
« Professional and hard-working »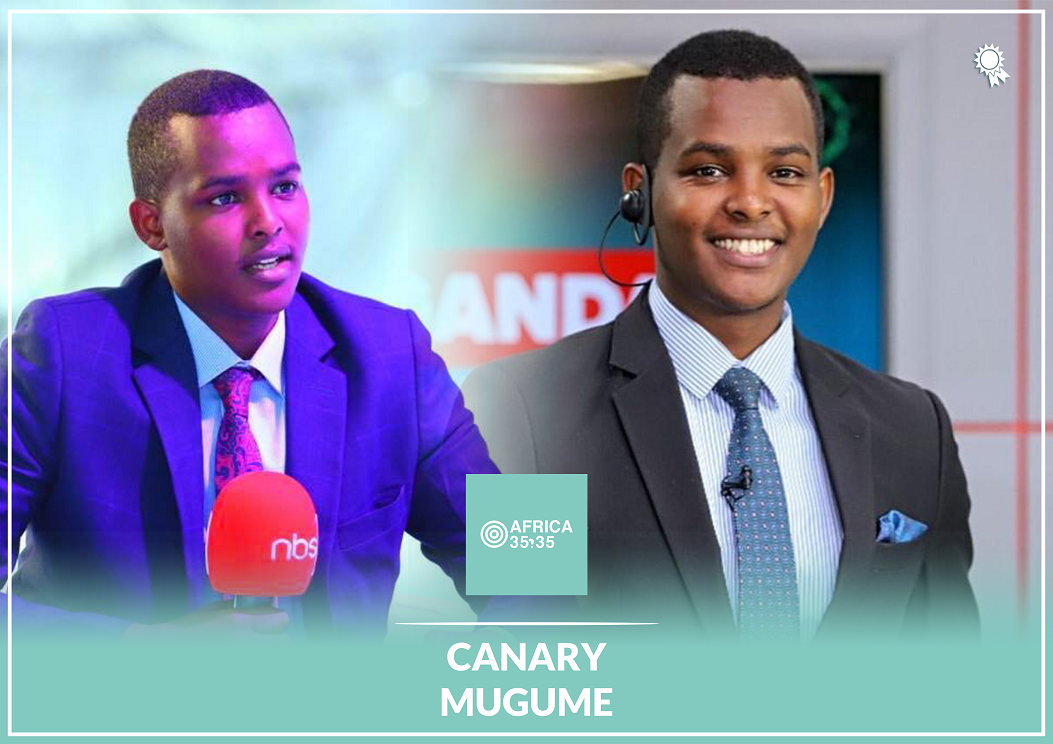 An investigative journalist, Canary MUGUME is dominating the Ugandan audiovisual landscape as the public generally recognizes his fast paced TV delivery on Coronavirus updates. The NBS TV star reporter anchors the daily bulletin on coronavirus, and is also the host of a Saturday political radio show on Nxt Radio titled « The Big Talk ». He is a Léo Africa Young Emerging Leaders Program Fellow.
ACTING
Ruth KADIRI, 32 yo, Nigeria
« The Nollywood Enchantress »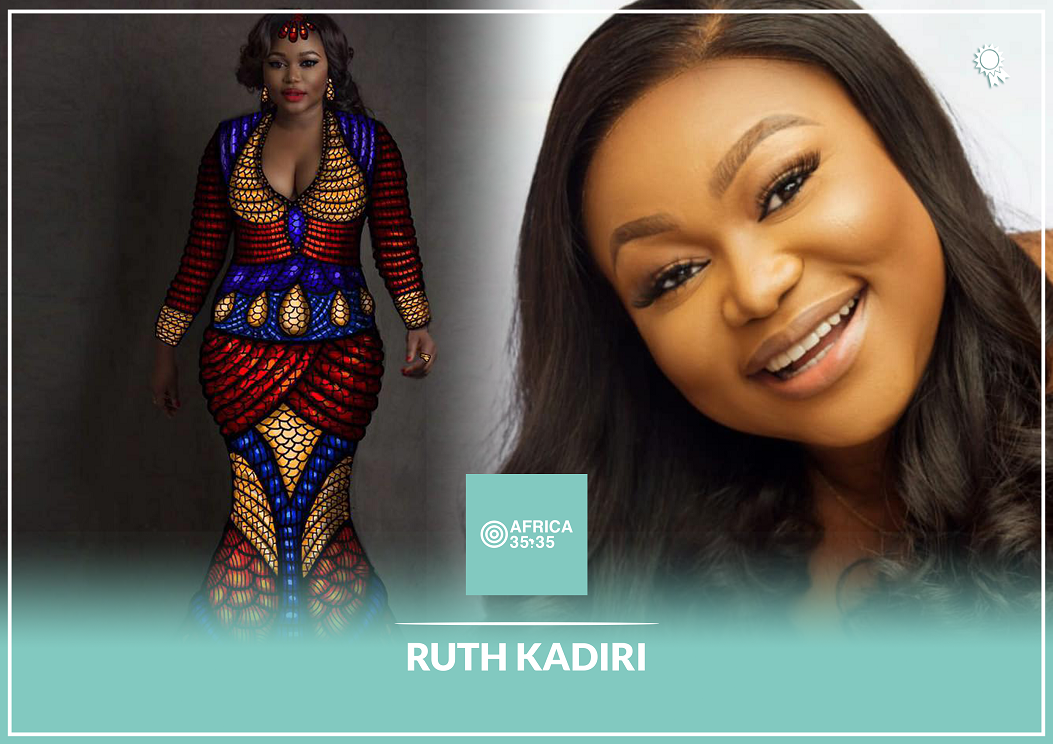 Ruth Kadiri is one of the most sought-after film actresses in the Nigerian movie industry and her career is steadily rising in recent years. Revealed in the film « Ladies Gang », she has appeared to date in over 50 Nollywood movies. Twice nominated for the « Golden Icons Academy Movie Awards » and the « Best of Nollywood Awards » in 2015, she was finally named « Actress of the Year » at the « Nigeria Entertainment Awards » that same year.
MUSIC
Lily Banda, 30 yo Malawi 
« Committed to Africa »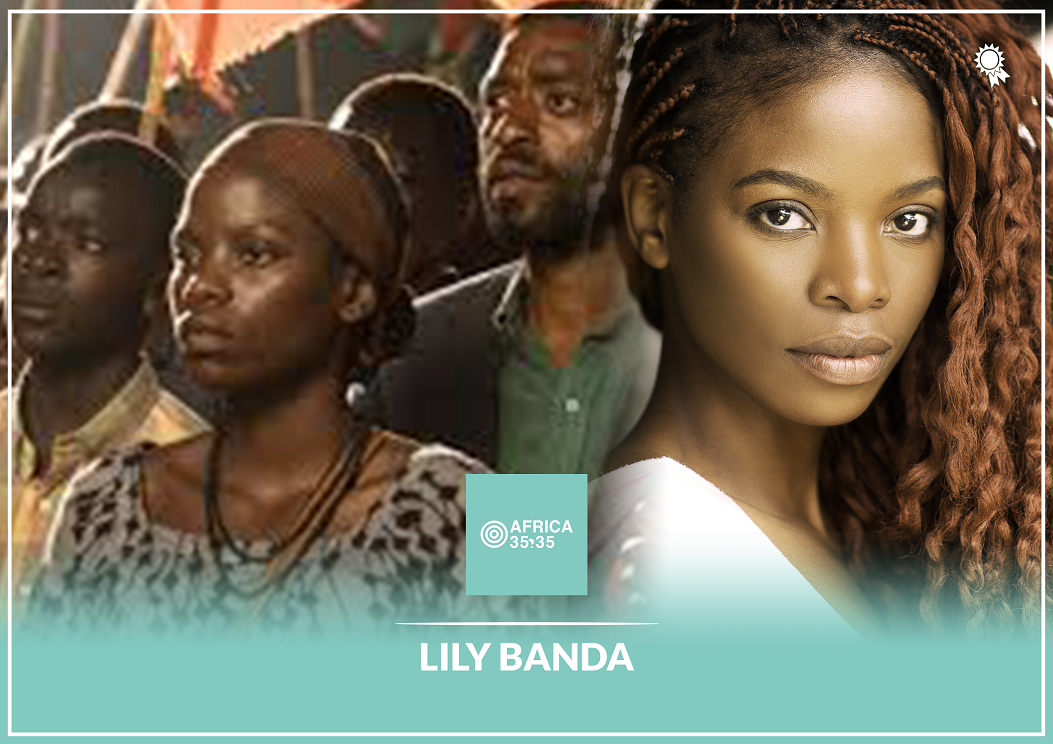 Lily Banda is a committed singer and actress. A fervent defender of women's and children's rights, she received in 2015 the African Union Young Hero Award, for her feminist and social commitment. She has vehemently denounced gender-based violence and pedophilia in Malawi. She repeatedly appeared on the official platforms of international organizations such as UN Women, the Segal Family Foundation and New York Philanthropy to share her pleas in favor of a more egalitarian world and one respectful of human rights. As an actress, Lily Banda played among others for season 2 of the British television series « Deep State » or for « The Boy Who Harnessed the Wind« , a Netflix hit, one of the top 3 most watched movies in Africa.
ADVOCACY AND COMMUNITY ACTION
Mohamed Amine Zariat, 30 yo, Morocco
« Youth employability program through sports in Africa »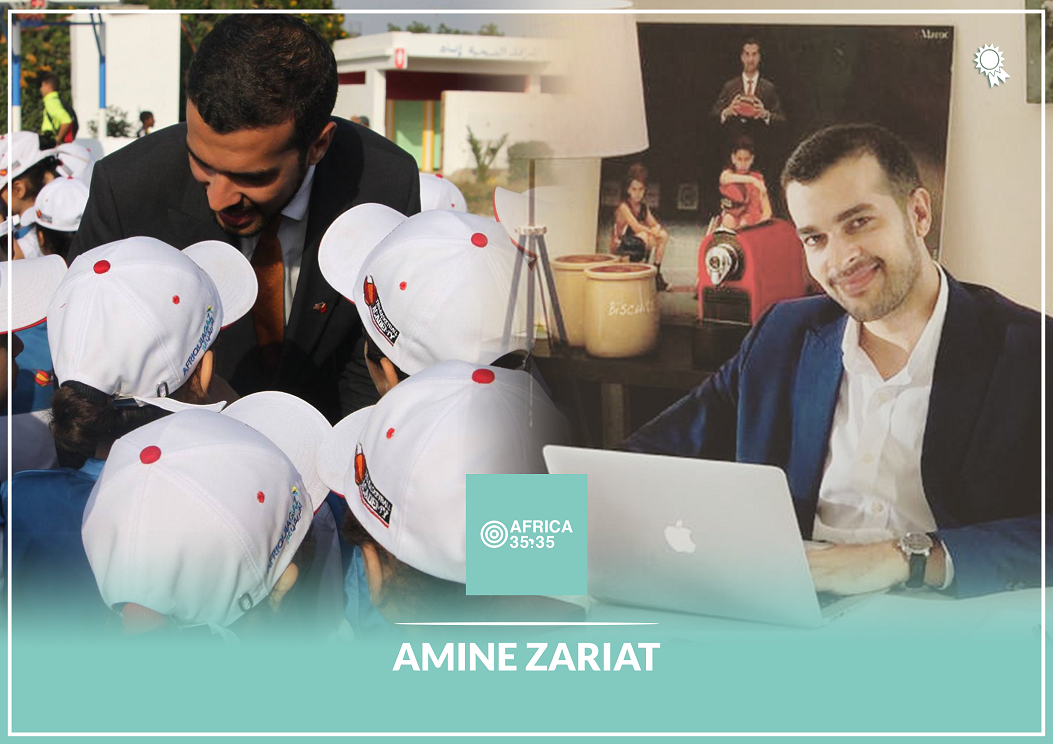 Since 2011, TIBU Maroc has been promoting basketball throughout the kingdom, through educational and social projects. Its president, Amine Zariat, is building an ecosystem that uses sport to empower and inspire active citizens. He is instilling a sense of self-efficacy and belonging in youth living in some of Morocco's most disenfranchised communities. His organization is active in 14 cities of the kingdom, having established 19 centers for the development of life skills through sports. An outstanding 250,000 young people participate in the program each year.
Banice Mbuki Mburu and Martha Nerima Wako (26, 32 yo), Kenya 
« Creating platforms and avenues where young people speak out »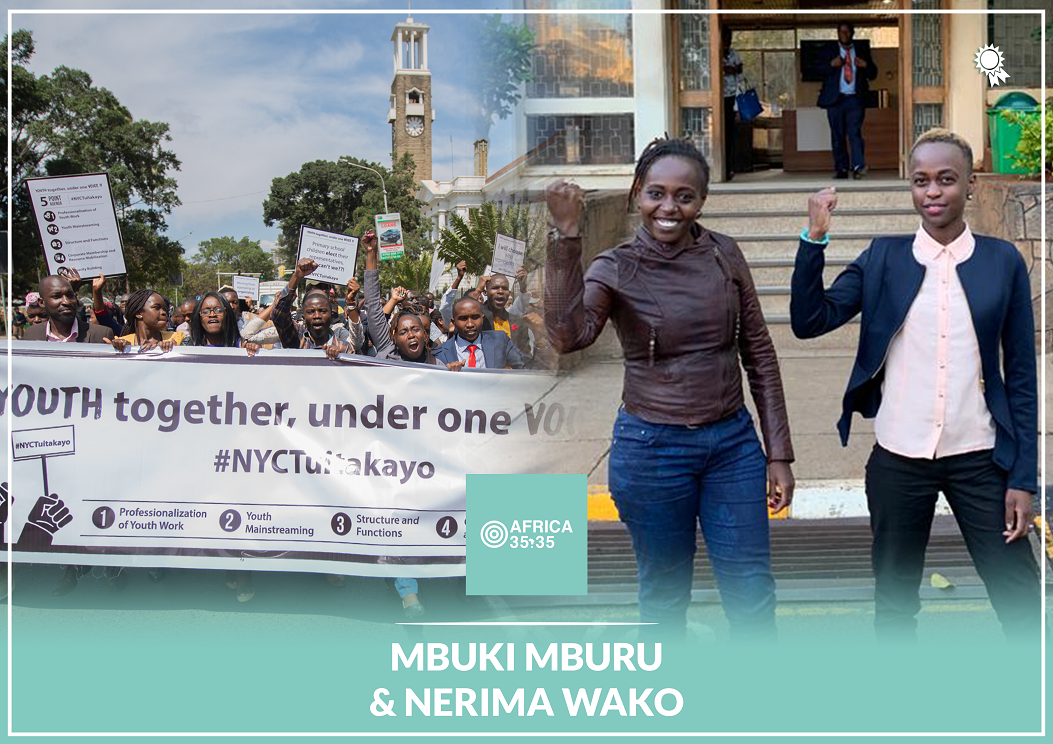 Banice Mburu and Martha Wako co-founded in Kenya, the "Youth Serving Organization Consortium", a consortium striving to unify diverse youth voices through strategic collaboration and partnerships to make their voices heard at the highest political levels. The consortium also aims to increase the representation and participation of youth in policymaking structures and decision-making bodies in the counties. The consortium has so far influenced the development of the Youth Organizations Coordination framework, successfully petitioned the high court to nullify a state appointment and contributed to the design of the Affirmative action fund – Biashara Kenya Fund to ease youth access to finance. Banice and Martha's online activism engagement has enabled them to build a strong following. To date, no less than 22,000 young people as well as a significant number of persons have been impacted by their activism. 
Adjovi Evenunye SODOKIN, 26 yo, Togo
« Fighting breast cancer »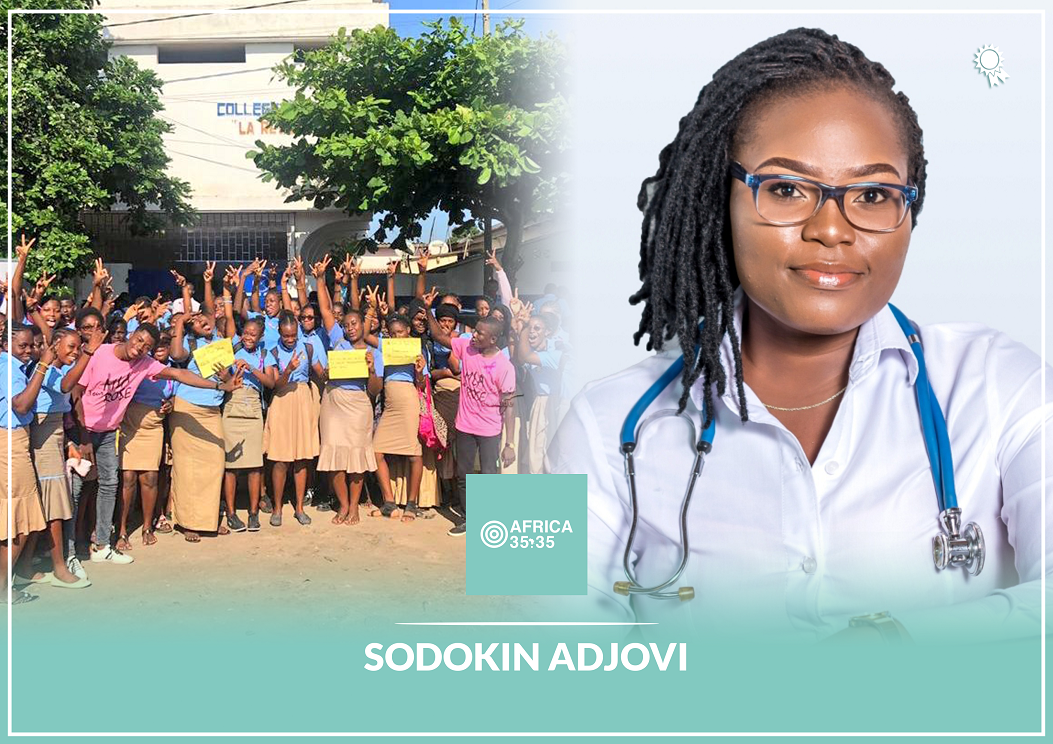 With the #MLATourRose project, Adjovi SODOKIN (M.D.) is on a crusade against breast cancer. She does it on her own terms and wonderfully: since 2017, an average of 3,000 high school girls have been visited, received awareness and taught breast self-examination. Adjovi SODOKIN is determined to train, involve and bring together a community of young ambassadors who make breast cancer history in Togo.
AGRICULTURE AND AGRI BUSINESS
Otaigo ELISHA and Diana Orembe (31, 24 yo), Tanzania
« Enabling sustainable and profitable fish farming »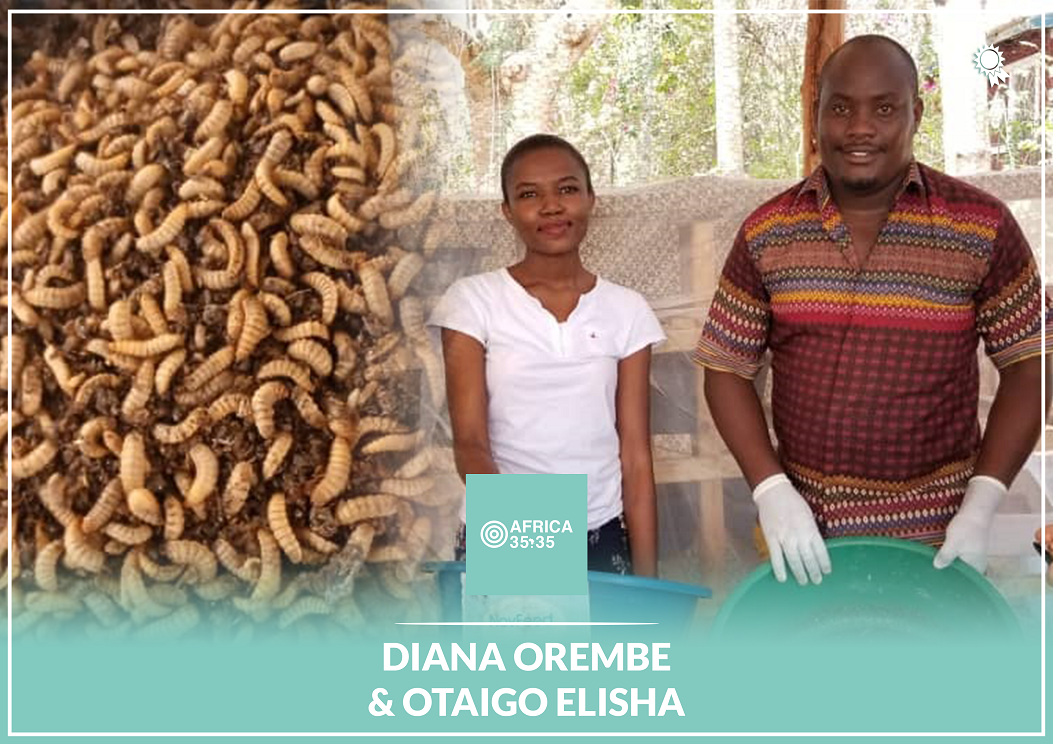 NovFeed breeds black soldier flies and worms, feeding them local food waste to produce new cost effective and high protein feed for fish farming. The technique benefits fish farmers in Tanzania who can reduce their costs up to 30%. With more than 12 tons of organic waste turned into maggots to date, Otaigo Elisha and Diana Orembe are starting small but on a bigger mission « to scientifically formulate the number one organic animal feed used by rural farmers globally. »
Anthony Ebitimi Owei, 32 yo, Nigeria
« Easing access to finance for small poultry farmers »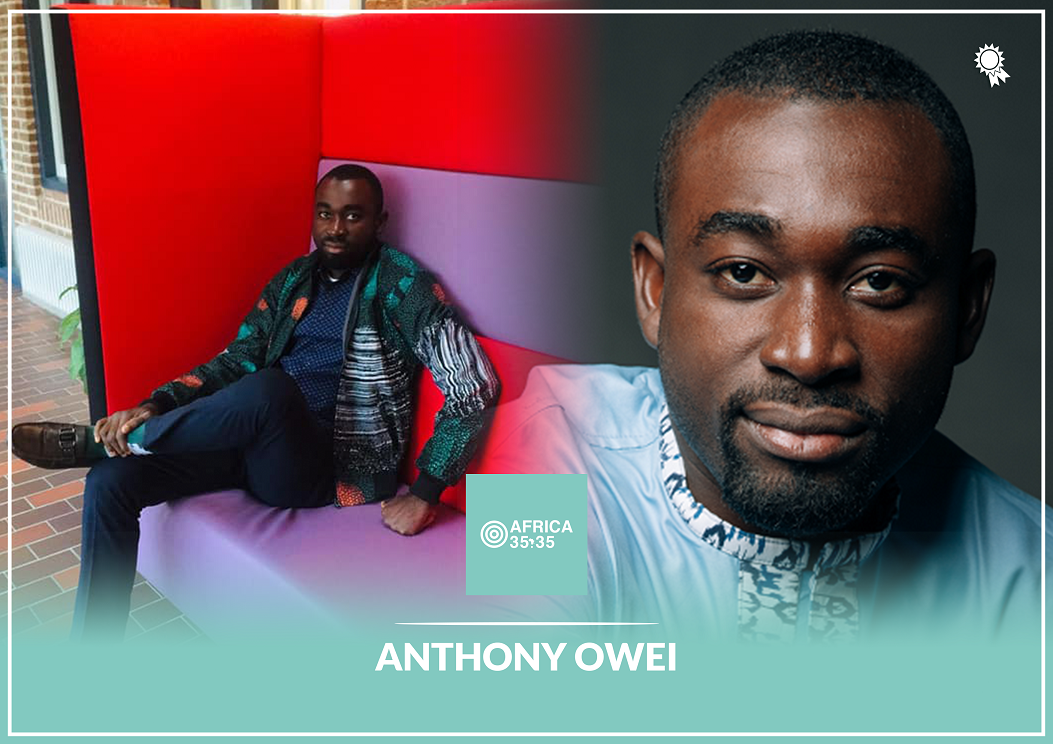 In 2013, Anthony Owei decided to return to Nigeria after having experienced a rather trying episode of drought in East Africa. Realizing that food security is a crucial challenge for Africa, he plunged his feet into entrepreneurship and in 2014 founded his company « Tonyve Farms », a poultry farm. Six years later, he owns three companies:  Tonyve Farms, Chicken Palace and ePoultry.NG, Nigeria's pioneering digital poultry crowdfunding platform that connects small poultry farmers and investors. Over 12,000 tonnes of chicken and over 38,800 tonnes of eggs have been delivered to the local market through his ventures.
Fatime Souckar Terab, 31 yo, Chad
« Bringing something positive to Chad motivated me to look at the food sector »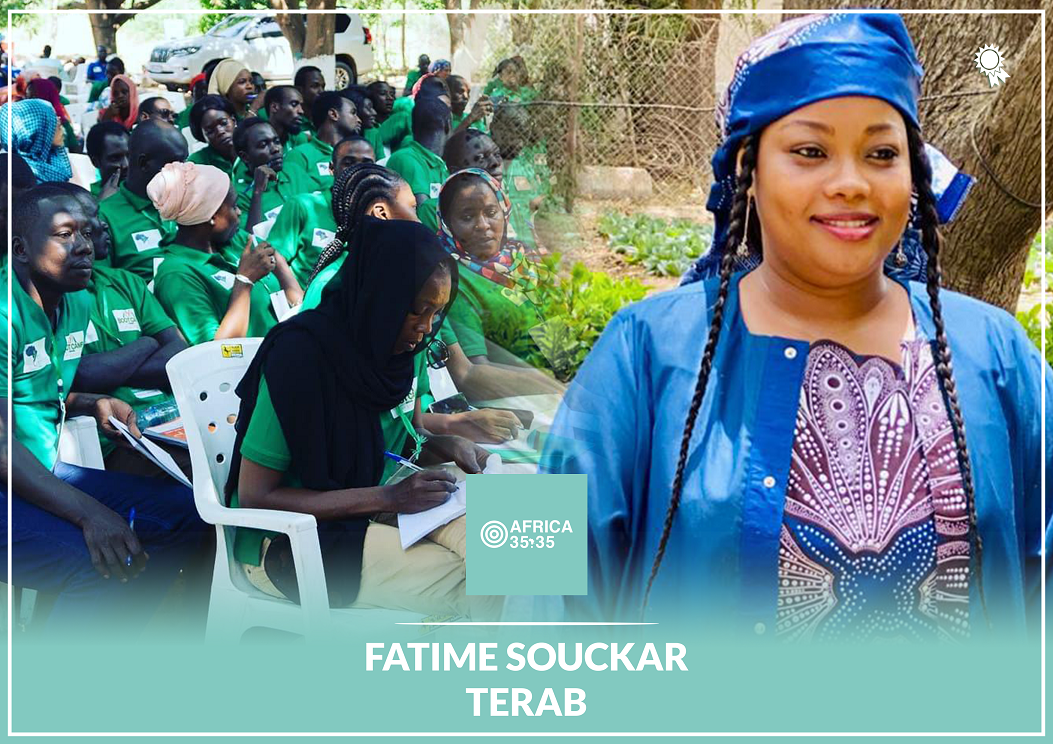 After working in aeronautics and serving the African Union as a young volunteer, Fatime Souckar Terab decided in 2016 to get into organic agriculture. In 2019, she co-founded « AYA CHAD, AFRICAN YOUTH in AGRIBUSINESS », a platform encouraging choosing agriculture as an income-generating activity, which attracted 500 members and organizing training regularly. Fatime then founded a modern organic agri-shop « Khadar market & Farms », now a reference in the capital city N'Djamena. She is also committed to the fight against malnutrition in Chad.
N'Guessan Koffi Jacques Olivier, 23 yo, Cote d'Ivoire 
« Green charcoal and leather thanks to agricultural waste »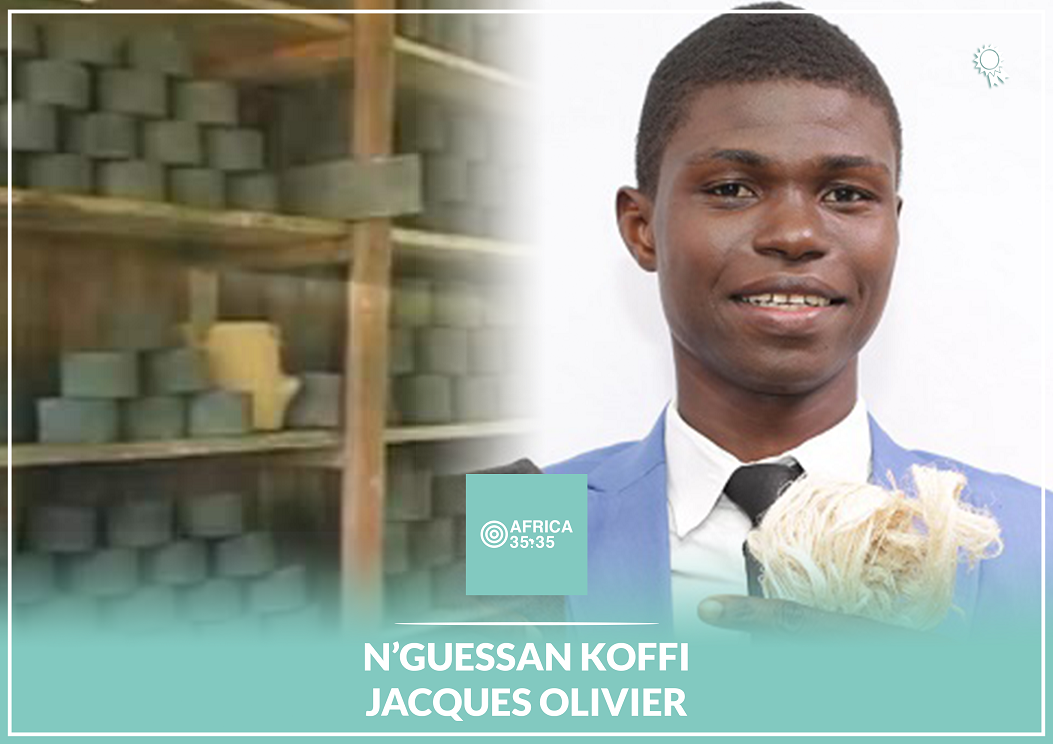 Son of a farmer, N'guessan Olivier very early on realized the opportunities offered by the circular economy. Through his company « TYEGRO CI », he is innovating in the treatment and transformation of agricultural and household waste into final products such as green charcoal. His best find: turning pineapple skin waste into leather-like material. He also owns a farm producing tubers, fruits and vegetables. TYEGRO-CI employs 48 people permanently.
The turnover rose to 262,000 USD from 26,000 USD in 2017. Prizes such as the "Anzisha Prize" or again the "Prize for the Best Young Agricultural Entrepreneur in 2016" is highlighting his "promising" trajectory.
ARTS, CULTURE AND FASHION
JOMA Fidelis Tinnah, 23 yo, Madagascar
« The courage to keep going »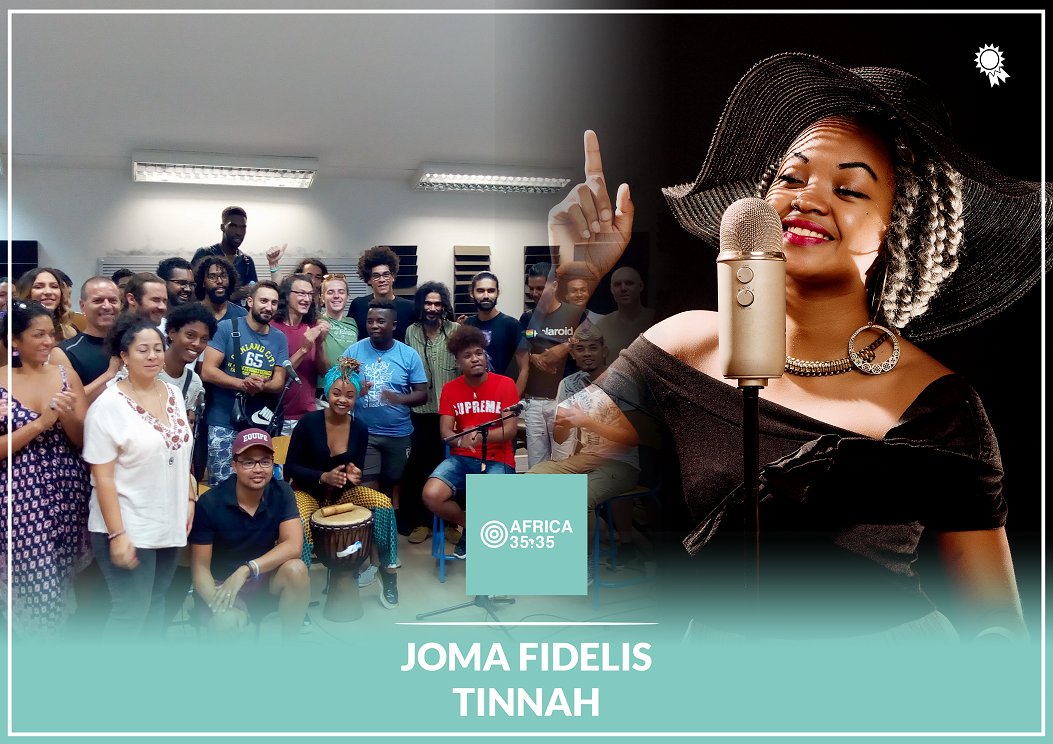 Better known by her stage name Makwa JOMA, JOMA Fidelis Tinnah is one of the headliners of Malagasy slam. Revealed when she was 14 years old in a competition, she has established herself over the years as a singular artist. Her dynamic stage presence combining dance, talent and poignant commitment have enabled her to win nearly ten national and international distinctions. Joma is defined by his courage. For her, you have to « have the courage to move forward despite the fear of failing. »
Badr Moutaz and Ibtissam El Mabchour (27, 30 yo), Morocco 
« Street art to consolidate living together »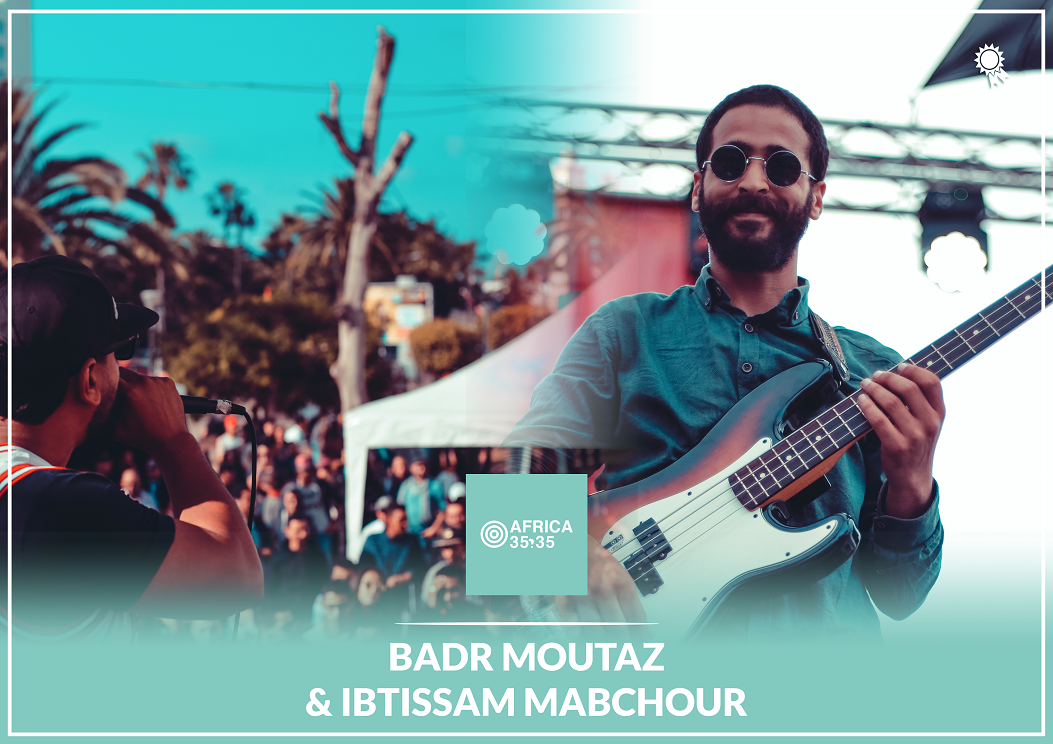 Badr Moutaz and Ibtissam Mabchour are two young Moroccan musicians and the promoters of the « Festival free lfen », which puts street art as an epicenter of excitement in the city of Casablanca in Morocco. 
The Free Ifen Festival has become a powerful artistic and cultural avenue mobilizing thousands of festival-goers every year in the streets of the Cherifian kingdom. It reflects social, racial, gender and cultural diversity. The festival has enabled residents and young people alike to healthily reappropriate public space, while facilitating the visibility of artists from working-class neighborhoods. And « that story is not about to end. »
John Kabiye Kalenga, 20 yo, Zambia
« Skateboarding, a tool against juvenile delinquency »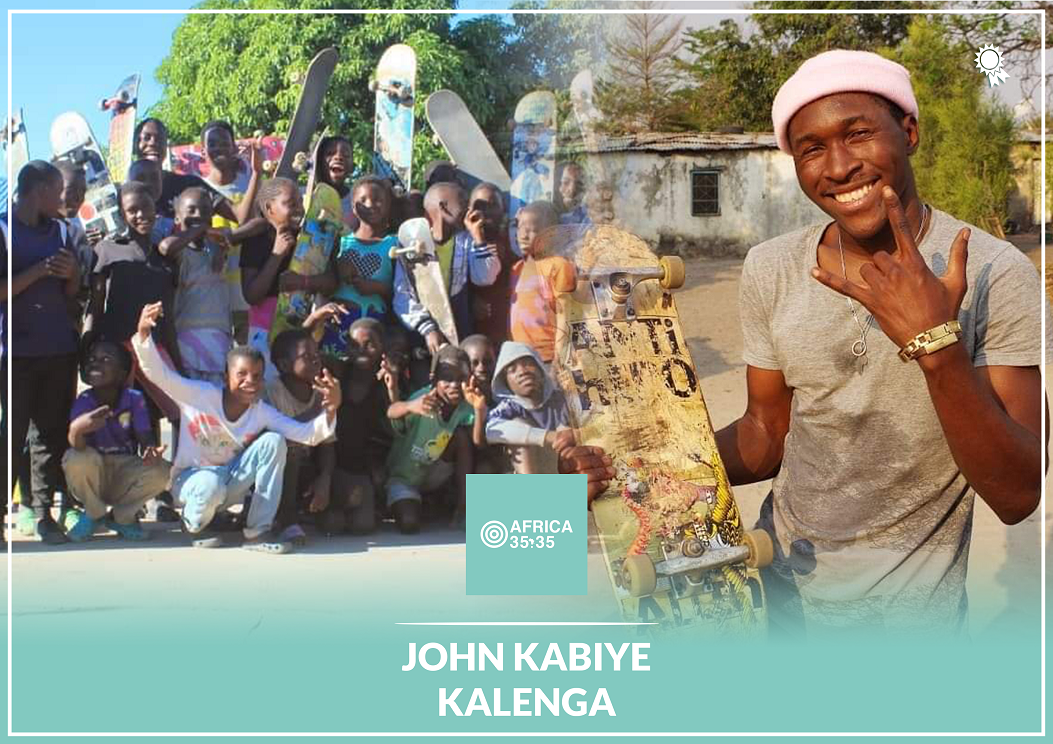 To fight idleness and prevent delinquency among young Zambians, John Kabiye Kalenga launched the initiative "Skate for change" through his NGO WeSkate Mongu founded in 2016. The initiative aims to make skateboarding accessible to all young people without any distinction in Mongu, the main town in the country's Western Province. The popular social program brings together more than 200 students per week, 20% of whom are women. The NGO is also associating another program called « edu-skate » to provide reinforcement classes. These various fun, sports and learning programs have enabled thousands of children to take an interest in sport. 90% of whom come from vulnerable families. Many young people have turned away from unhealthy activities in this way.
EDUCATION
« Digital education for all »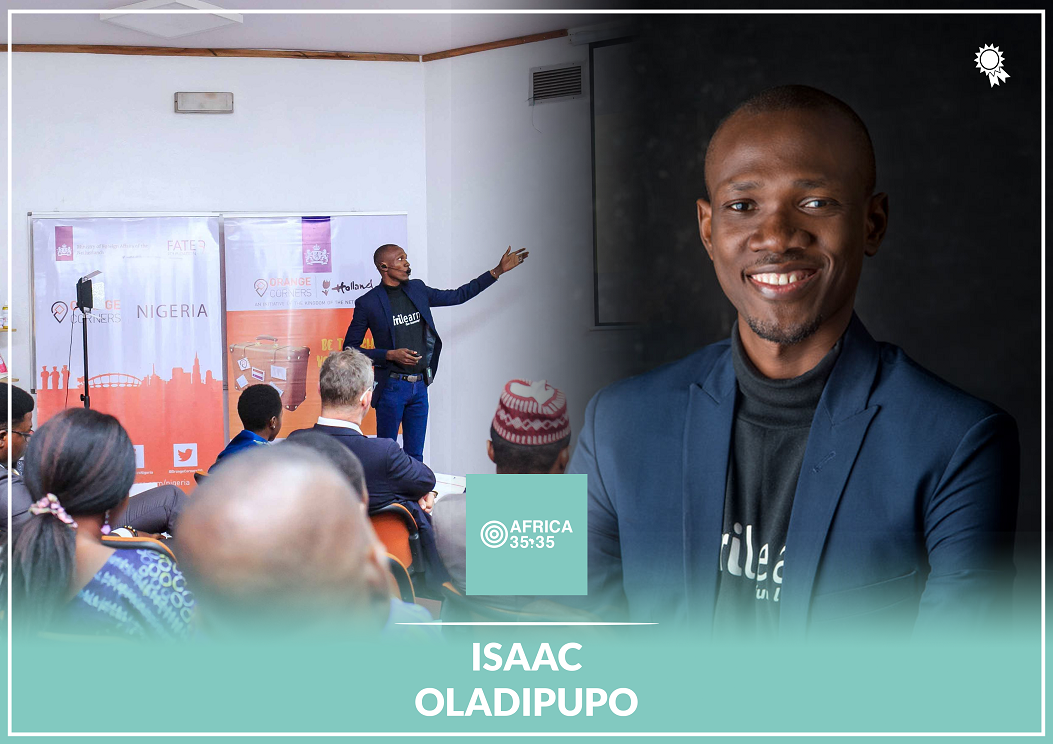 In response to the COVID-19 pandemic and the closure of schools across Nigeria, Isaac Oladipupo launched in April 2020, "ClassNotes.ng", an innovative ed-tech site that provides online, comprehensive content on secondary education which receives an average of 250,000 visits per month. This convincing result is the continuity of an innovative solution developed from the « Afrilearn » platform that he co-founded in 2018 with the aim of participating in the digital education revolution. "Afrilearn" is a network of seasoned teachers, facilitators and developers available to create engaging and relevant educational content at affordable rates.
Toluwalase Awoyemi, 27 yo, Nigeria 
« Propelling African intelligences abroad »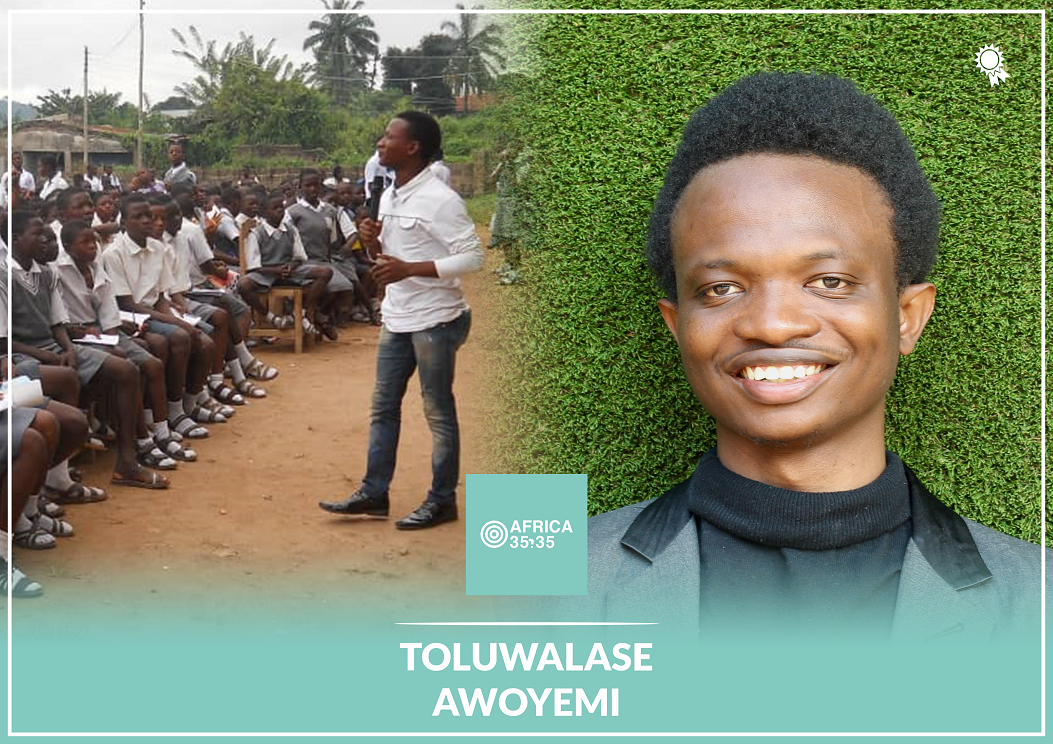 20 academic prizes were awarded to Toluwalase Awoyemi during his studies in Nigeria. At the end of 2017, he co-founded an NGO, "The Ganglion Initiative" which acts as a catalyst 2.0 for the Nigerian education system. The social enterprise aims to improve college admission services and career counseling really early, engaging students in public high schools. It organizes free webinars for admission to foreign scholarships with a fairly remarkable total audience of 2,221 people in the first two editions. Involved in the Access and Outreach Program at the University of Oxford, where he is working to increase the representation of ethnic minority students while doing a molecular biology PhD in Women's and reproductive health. A Rhodes scholar, he received the "Rare Rising Stars Award 2020" recognizing Britain's top 10 black students. 
Franck Kié, 29 yo, Cote d'Ivoire
'' Strengthening African organizations to face cyber crime ''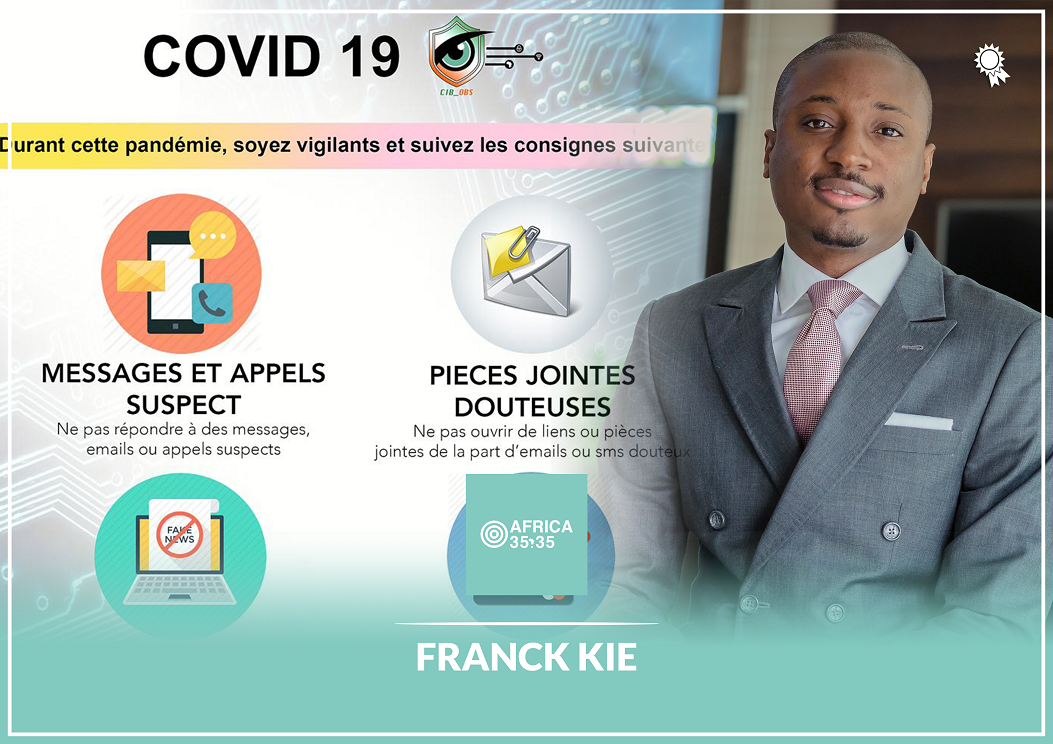 Launched in November 2019, the Cyber Observatory in Africa « CIberObs » is an association which intends to raise awareness about cybercrime in Africa. The site regularly produces analyzes and an annual report on the issue. Franck KIE is preparing for 2021, the "Cyber Africa Forum", in partnership with the International Cybersecurity Forum. Another project is to create a think tank « Cyber Africa Community » to bring together and engage a strong global community to spur major discussions around cyber security on the continent. An education enthusiast, Franck KIE had previously founded the NGO ''Future Africa''. In 7 years, more than 500 school kits and more than 30 scholarships have been offered to students.
Koi Abycè Charles, 31 yo, Cote d'Ivoire
« Many adolescents indulge in unhealthy entertainment »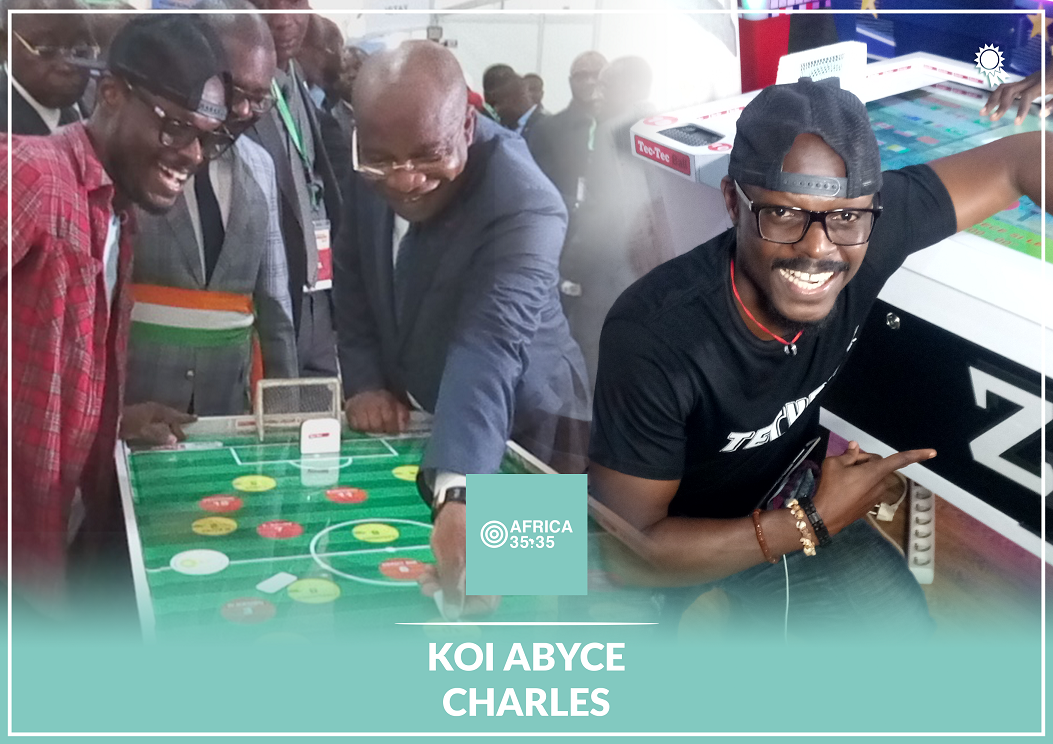 Koi Charles makes from scratch electronic, digital and analog board games, he has modernized the « TEC TEC BALL », a game that rocked the childhood of many Ivorians. Since 2018, he has organized the annual African « TEC TEC BALL » championship, which brings together more than 1,500 young people. He keeps developing new games, all patented: FORTUNA DJÊTIN, a board game about entrepreneurship and financial intelligence; ZCITY, a real estate investment board game; ESCAPE GAME, a strategic scoring game. His educational games are authorized by the Directorate of School Life of the Ivorian Ministry of National Education and nearly fifty schools are partners in this initiative.
ENTREPRENEURSHIP
Mohamed Dhaouafi, 28 yo, Tunisia 
« Restoring hope with a prosthesis » »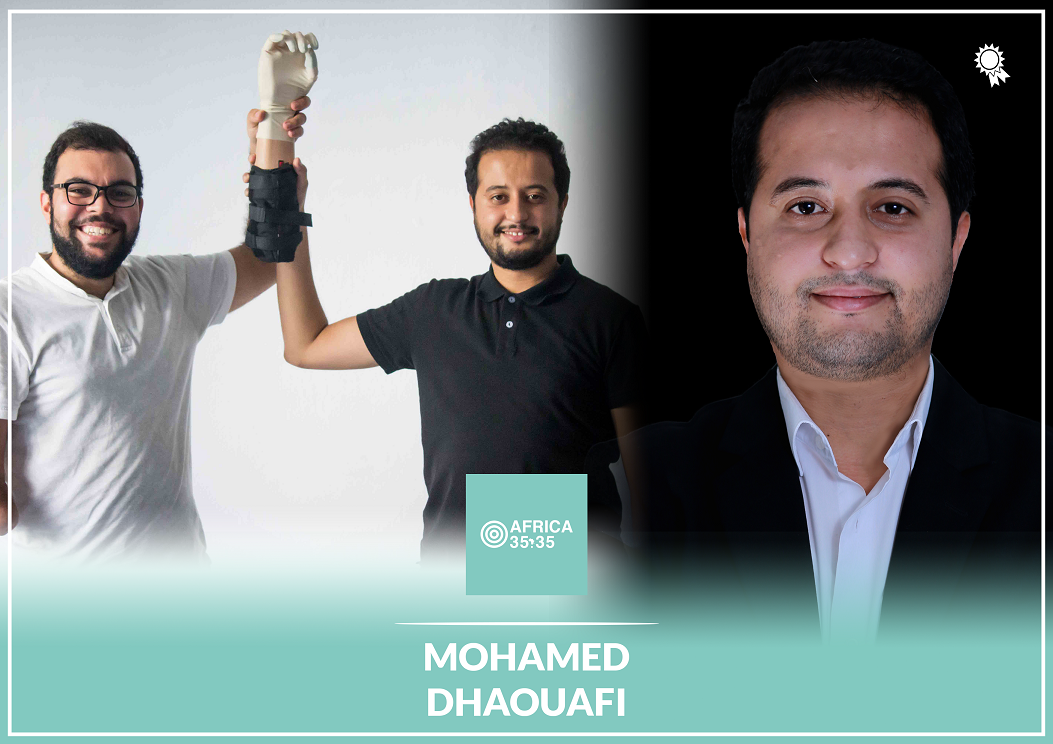 The bionic prostheses offered at affordable prices by CURE BIONICS should give hope to thousands of people with disabilities. They are 3D printed using an environmentally friendly raw material and have an adjustable grip that adapts over time. The rotating wrist gives the wearer more flexibility and freedom, and the arm features a rechargeable solar-powered wireless charger. Mohamed Dhaouafi, its designer is still working on it to perfect it. The company has gone through a final-stage test with a community of 20 people and plans to reach a minimum of 300 people by mid-2021. CURE BIONICS hopes to relieve 10,000 people over the next 5 years, enabling them to return to school or to obtain employment, creating a lasting impact. The practical and social utility of the project has enabled it to raise nearly $ 100,000 from international organizations.
Fadima Diawara, 34 yo, Guinea 
« A smartphone made for more »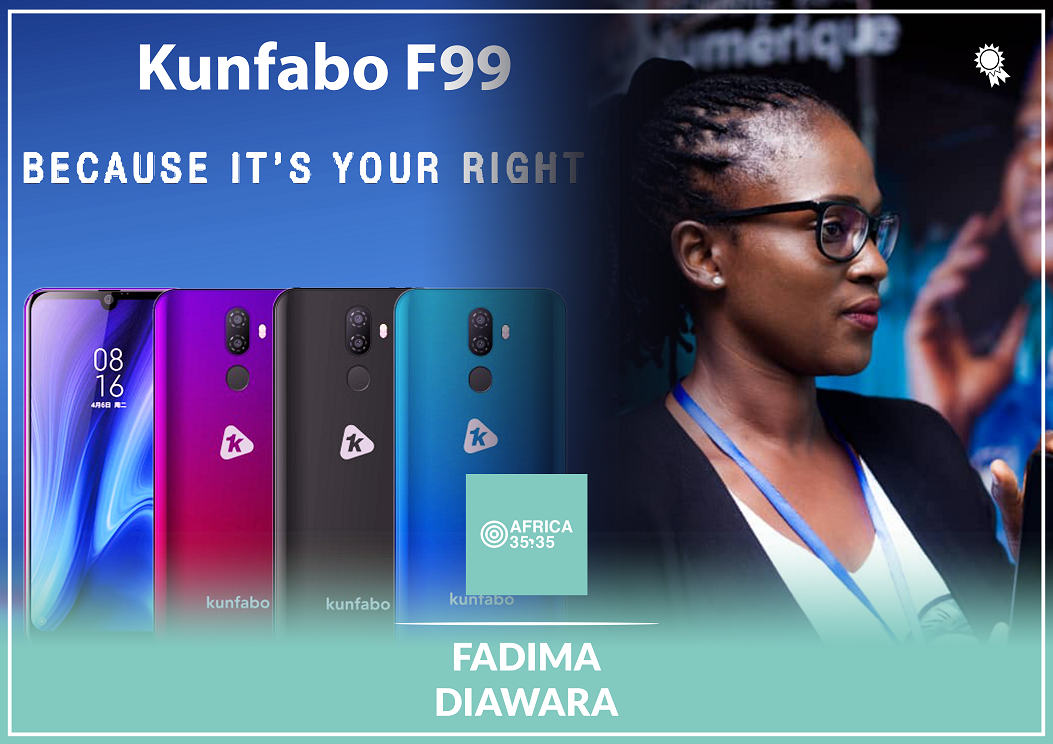 Kunfabo – "to be in contact" in Malinké – is the smartphone created by Guinean Fadima Diawara. With the aim of promoting digital inclusion, Fadima Diawara offers inexpensive smartphones, which integrate applications specifically created to meet the needs of Africans. With 3000 units sold when it was first introduced in January 2020, her young company continues to position itself and stands out in the highly competitive landscape of mobile phone sales.
Amadou Mohamed Fofana, 28 yo, Cote d'Ivoire
« Let's hatch national champions in business »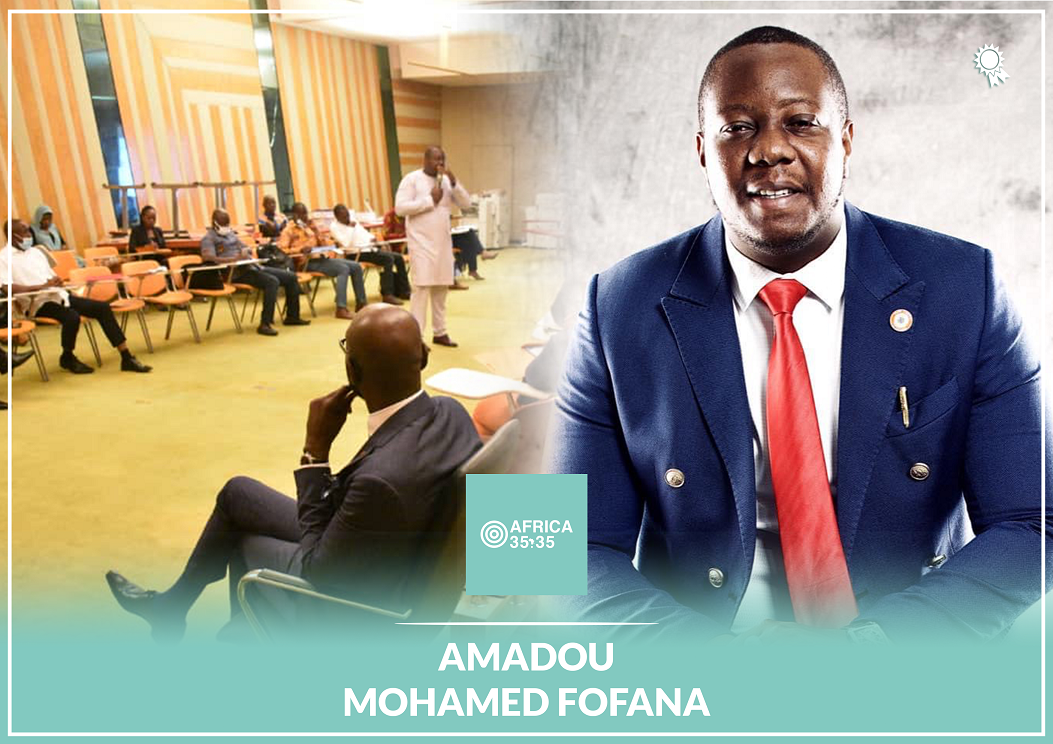 Every year since 2015, Amadou Mohamed Fofana has organized the African Young Entrepreneurship Fair. The fair wants to curb illegal immigration and showcas local opportunities for youth. The last three editions of the fair have attracted no less than 50,000 participants, and motivated the creation of 550 companies. A digital platform as an add-on provides free training in entrepreneurial skills. Amadou Mohamed Fofana is himself the founder of 5 companies, including a local disposable mask production unit with a production capacity of 20,000 pieces / day. This contributed to the fight against COVID-19 in his country. He has received several distinctions including that of the best young Ivorian entrepreneur in 2017.
INFLUENCER AND INTERNET PERSONALITY
Tosin AJIBADE, 33 yo, Nigeria
« The other Super Woman in the Nigerian blogosphere »
After multiplying professional experiences in online media, Tosin AJIBADE embarked on her own web adventure. Her entertainment and lifestyle website, OloriSuperGal.com ranks among the biggest in Nigeria, so much so that the young woman is making it a South African edition. Organizer of the « New Media Conference », an annual event whose first edition was held in 2015 in Nigeria, Tosin AJIBADE is reckoned in the media world in Nigeria and beyond. Tosin Ajibade is the author of two books: « From Social Misfit To Social Media Hero » published in 2018 and « The Influencer Blueprint » published in 2020, on media and personal branding.
Mouhamadou NDIAYE, 28 yo, Senegal « Dudu fait des vidéos »
« I stage the daily life of Senegalese. There is a lot of dancing, parodies »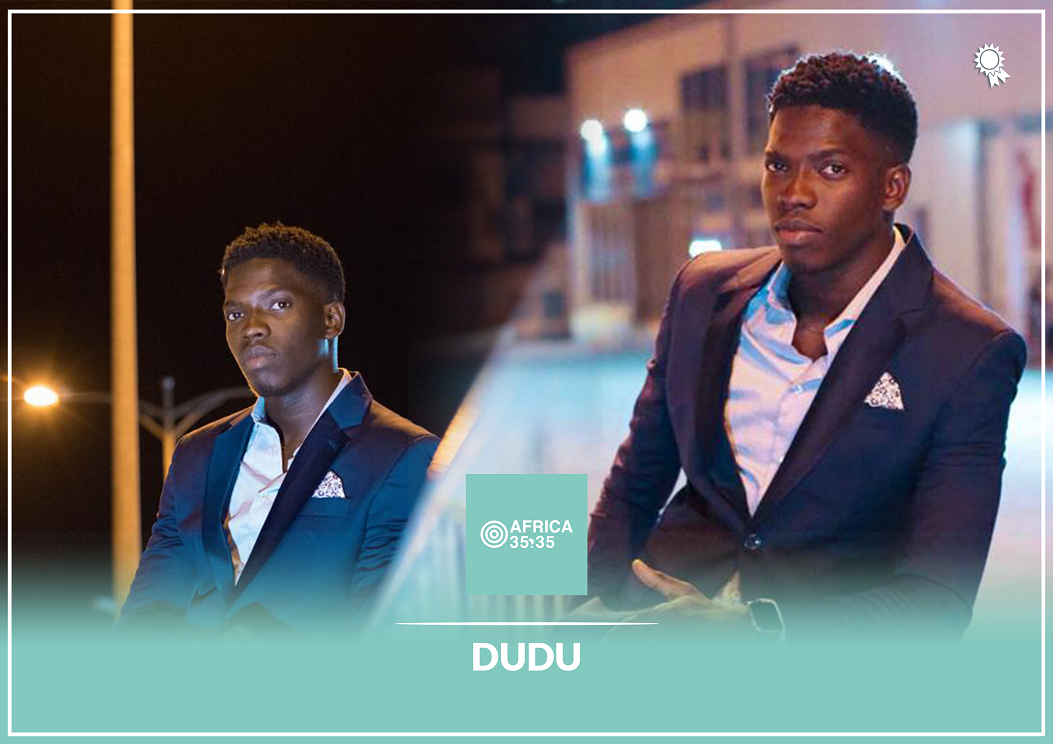 An apostle of humor, Mouhamadou NDIAYE better known under the name « Dudu makes videos » is the first Senegalese influencer to have exceeded one million subscribers on Instagram. Since 2014, the young artist has grown to become one of the best in the still shy universe of web influencers in Senegal. Never short of imagination, in 2016 he launched the web series « Bleme-pro », a rather playful representation of the fancies of everyday life and of married life « .
Cynthia Nafula Nyongesa, 25 yo, Kenya 
« Web activism for social change »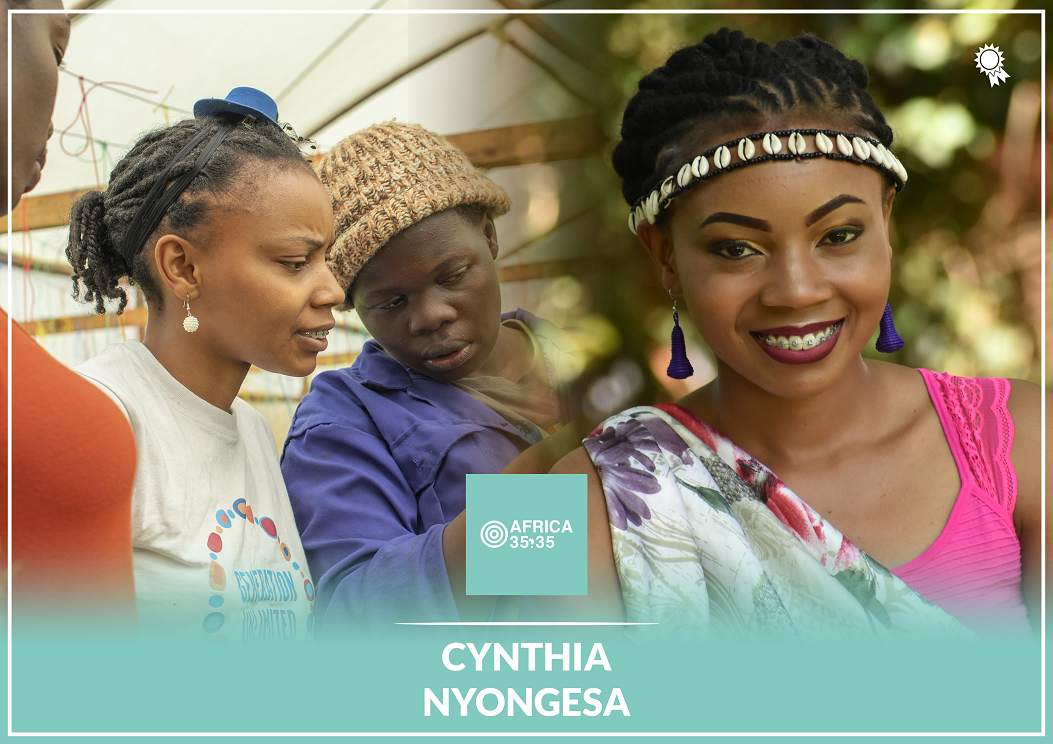 Created four years ago, the "Cynthia Untamed" platform highlights the stories of young Africans who are actors of change (human rights defenders, influencers and motivators). In 2016, Cynthia Nyongesa was a finalist in the World Bank Blog for Development competition. She is an excellent communication and advocacy professional and a Youth Advocate at UNICEF Kenya, Cynthia Nyongesa has amplified the inspiring stories of 70 young Africans and counting. The return is impactful. With a readership of 4000 readers per month, the ambassador of "Generation Unlimited" interacts within this organization on issues related to youth in order to contribute to ensuring that by 2030, 30 million young Kenyans have access to education, employment and civic engagement opportunities.
MEDIA ENTREPRENEURSHIP
Emmanuel Agbeko Gamor (34 yo, Ghana) and Zinhle Mkhabela (29 yo, South Africa) 
« Democratizing education »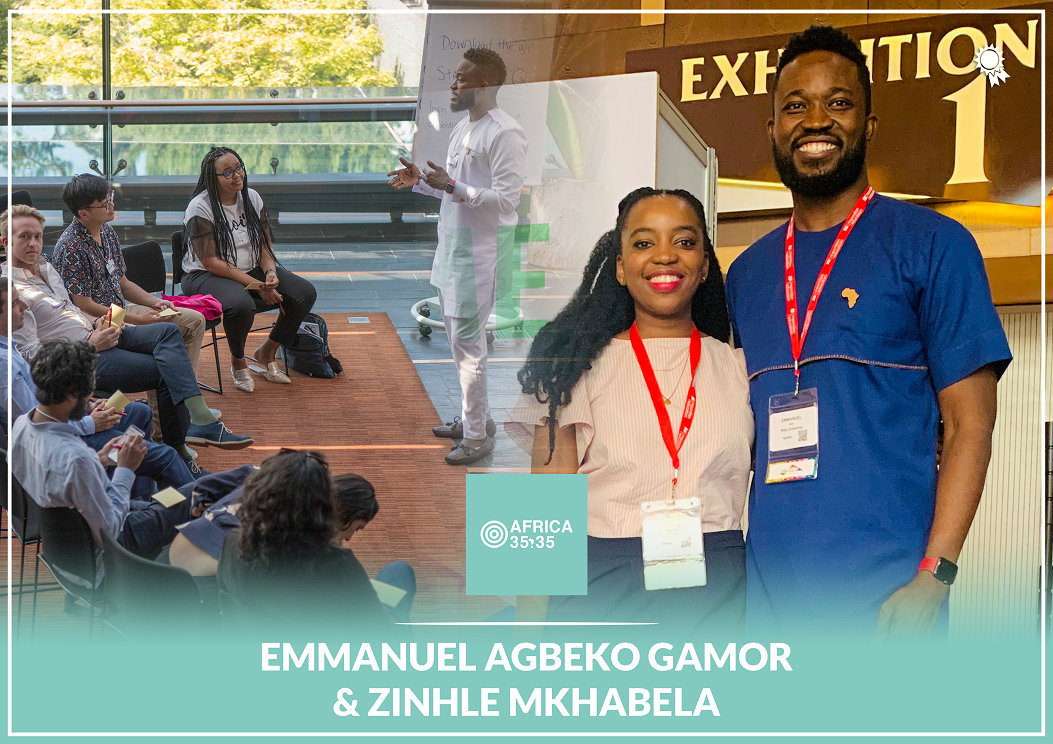 edu Kanea is an EdTech company focused on up-skilling professionals from various technical backgrounds. Created in 2018, this technical development program for professionals and executives has attracted more than 500 learners in Africa. Their co-founders Emmanuel Agbeko Gamor and Zinhle Mkhabela were fortunate enough to have attended renowned universities (USA / Africa) and decided to use their enriching experiences to make hgh(quality education accessible to more people. They then set up this EdTech company focused on educational development. More than 950,000 people had been reached through their multimedia channels and learning groups developed through social media. 
Yandile NUKU, 26yo, Botswana
« The unapologetic media enthusiast »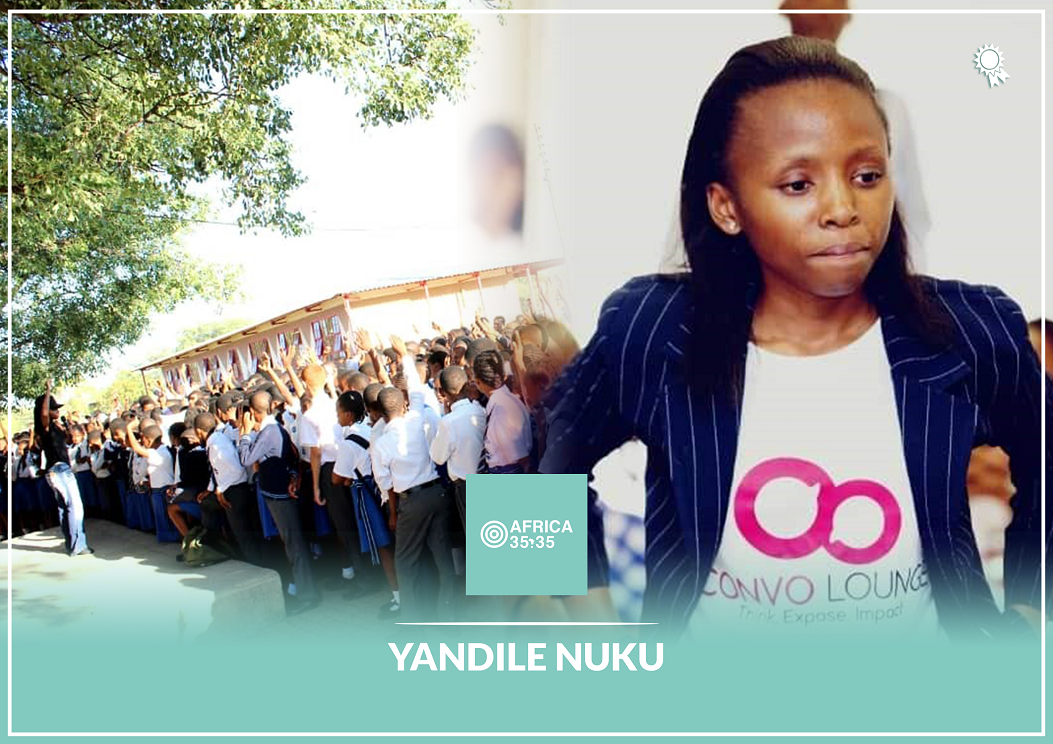 Yandile Nuku founded GIQ Media to provide strategic content for businesses and to enhance their brand image. A member of the board of the Botswana National Youth Council, Yandile Nuku is responsible among other things for the education and media subjects. She also supports young graduates in search of employment through a capacity building program. A celebrated radio host in her country, she embodies the face of youth who lend their voice for a more inclusive society.
Francis Yushau Brown, 30 yo, Ghana 
« Providing meaningful, engaging and indigenous content for Africans »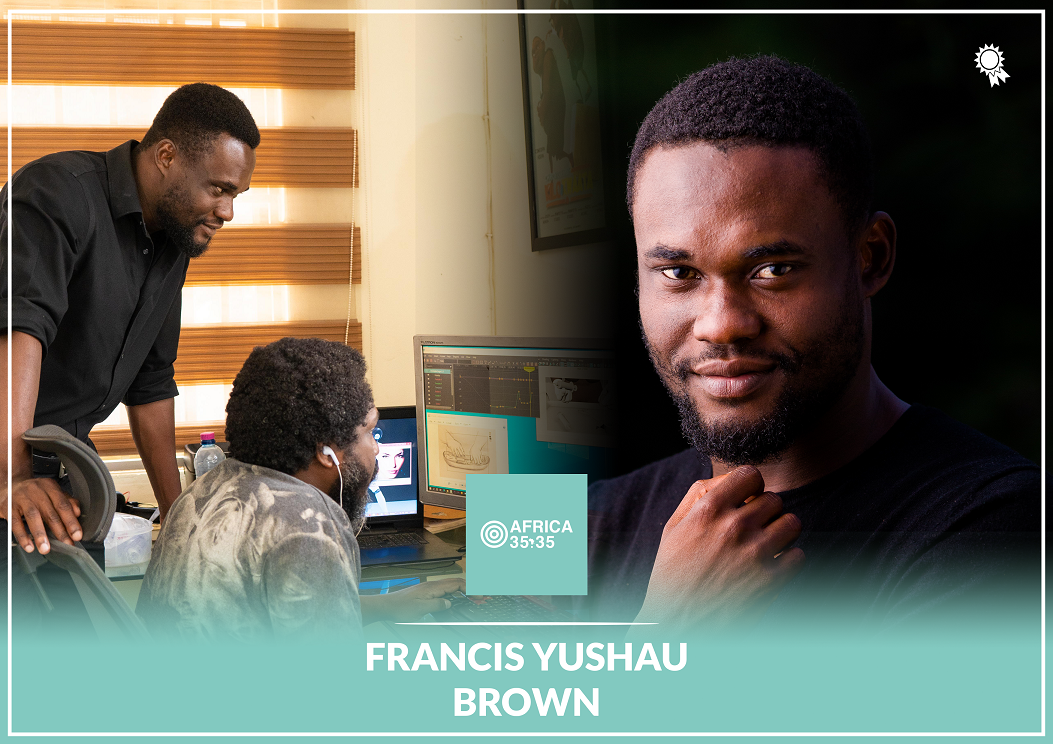 Africans and African stories are not so much represented in the global film industry. Bringing authentic African stories to life is the lifelong ambitious project carried by Francis Brown with AnimaxFYB Studios. 
One iconic project, Tutu, The Untold Story of a Kingdom depicts the story of Osei Tutu and the rise of the 17th century Ashanti Kingdom in what is now modern day Ghana, West Africa. Francis Brown's blueprint is to build a robust animation industry in Ghana that will generate content, create jobs and revenue for Ghana and Africa as a whole. In 5 years of activity, AnimaxFYB Studios has trained more than 50 people and employs 10 full-time workers. The animation studio has received several international awards and collaborated with leading organizations such as UNICEF and the Bill & Melinda Gates Foundation.
PUBLIC SERVICE
Emma THEOFELUS, 23 yo, Namibia
« Faire confiance à la jeunesse africaine »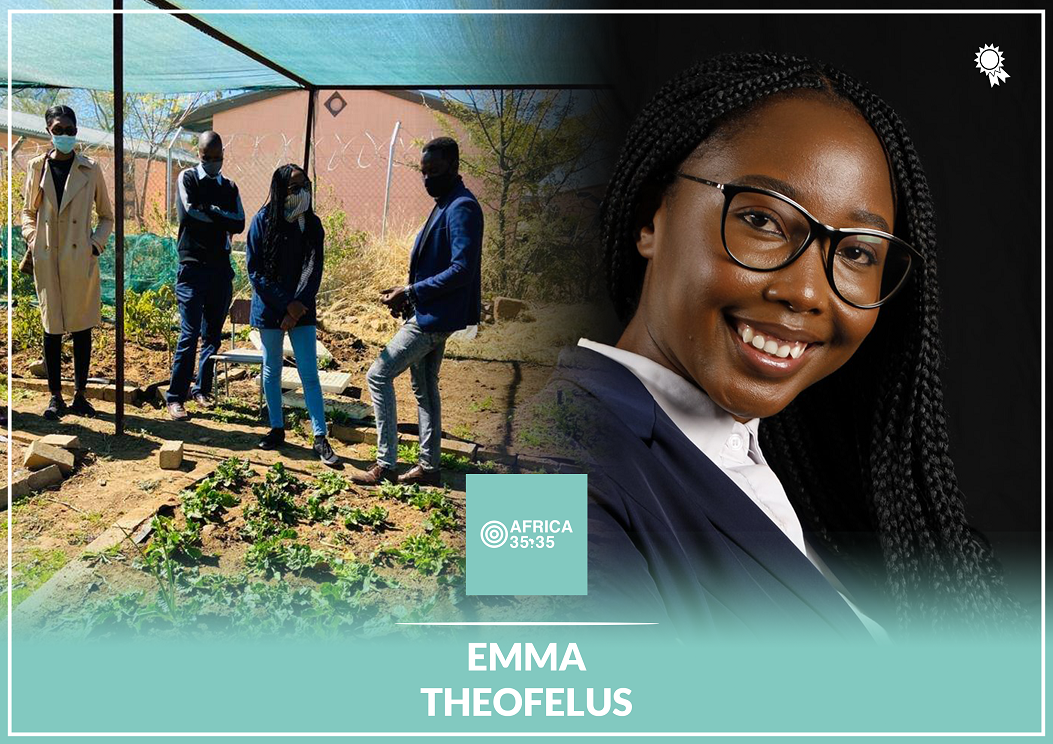 Emma Theofilus became Africa's youngest minister in March 2020, after being appointed her country's deputy minister of information, communication and technology. 
A member of parliament and a board member of the National Council of Higher Education, she is a seasoned young activist having since a young age held several notable positions, among others: Junior Mayor of the city of Windhoek (2013-2014), Vice-Chair of the Board of Directors of the Global Entrepreneurs Network Namibia (2018-2020), Vice-Chair of the Youth Parliament of Namibia (2016).
Zukiswa Nolubabalo Mqolomba, 35 yo, South Africa
« Planning for the greater good »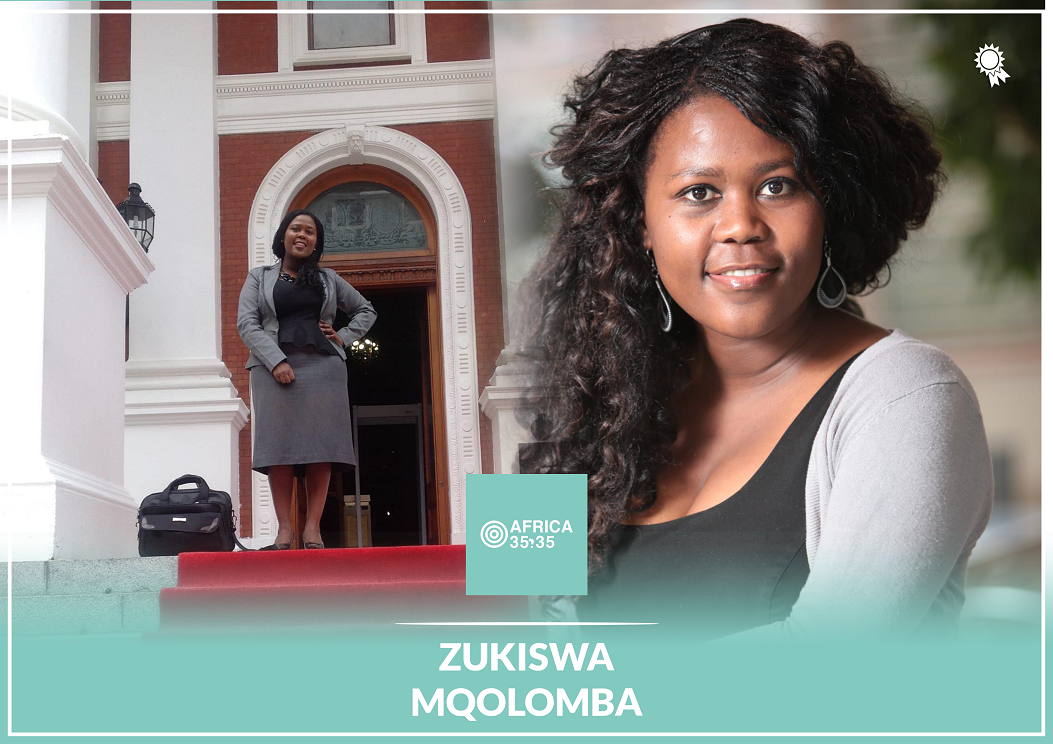 Created in May 2010, the National Planning Commission is responsible for strategic planning for South Africa to meet fundamental challenges related to the problems of unemployment, poverty and inequality. In 2014, the rainbow nation lost its place as the leading African economic power to Nigeria, drowned by a recession crisis. To restore the economy, the executive has put in place a reform program. A youth leader and senior civil servant, Zukiswa Mqolomba has more than 10 years of critical experience in development strategy and has served as Director of Research and Economic Recovery. She provided remarkable support to the drafting of the National Development Plan Vision 2030 which aims to create 11 million jobs by 2030, while unemployment has skyrocketed over the past two years.
Yacine Oualid, 26 yo, Algeria
« Building an Entrepreneurial Algeria »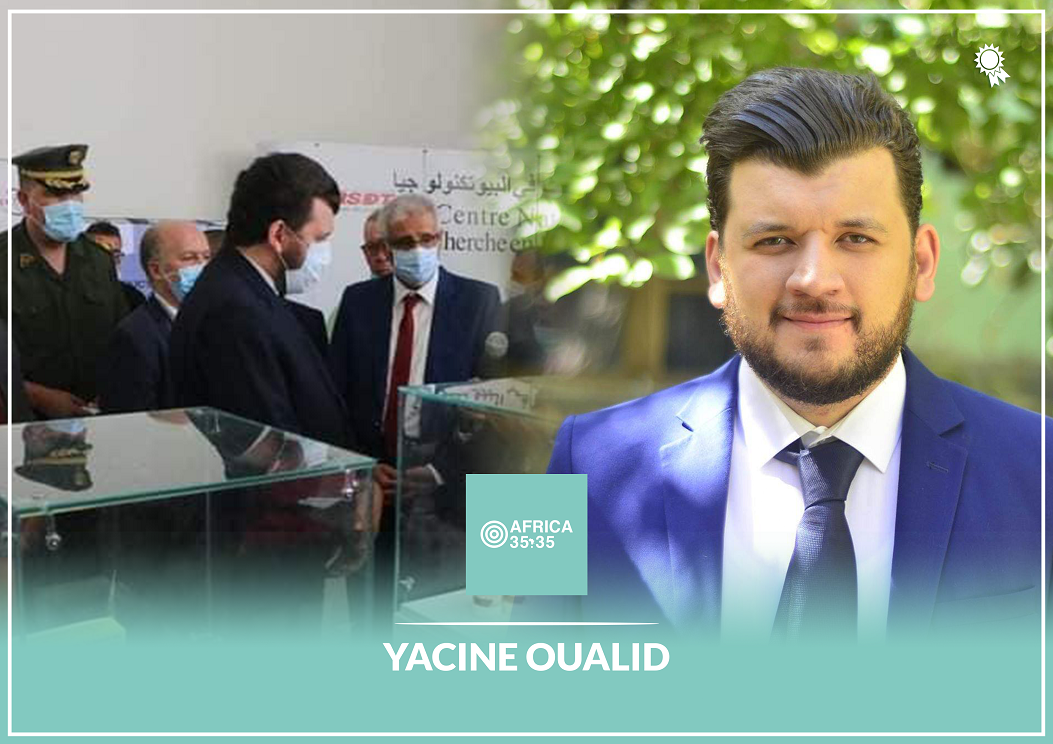 Yacine Oualid is the Algerian minister delegate in charge of start-ups. Doctor of medicine, a former director of a hosting company, this fervent supporter of innovation has since sparked the launch of the National Fund for the financing of startups. He now sets eyes on the creation of technology hubs in Algiers, Oran, Constantine and Ouargla and the pursuit of specific legislation to foster innovation and support start-ups.
TECHNOLOGY
Yele BADEMOSI (29 yo) and Dayo KOLEOWO (31 yo), Nigeria
« Investing in startups, future technology giants of Africa »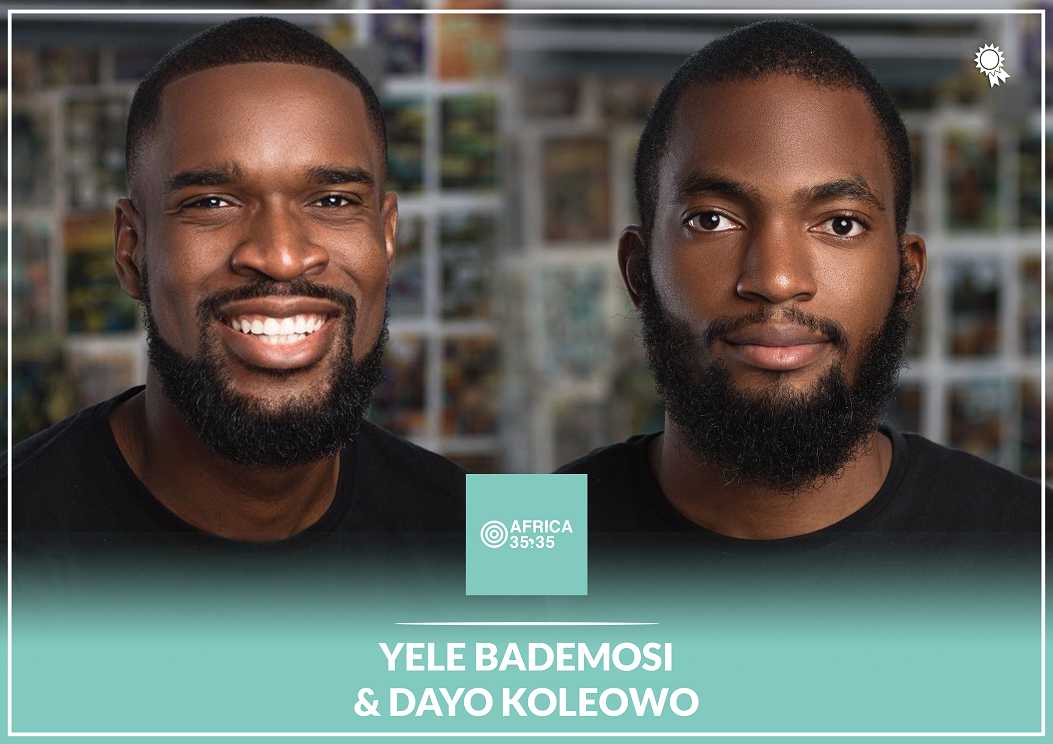 Microtraction is an early-stage venture capital firm based in Lagos, Nigeria that backs remarkable teams from the early stages of their business and helps them build sustainable businesses. Launched in July 2017, it attracted a range of African and global investors, including American entrepreneur Michael Seibel CEO and partner at Y Combinator. To date, Microtraction has invested in around twenty companies in Africa.
Andron MENDES, 35 yo, Tanzania
« I am delighted with how far we have come and just as exuberant that our technology will be revolutionary and help protect the environment »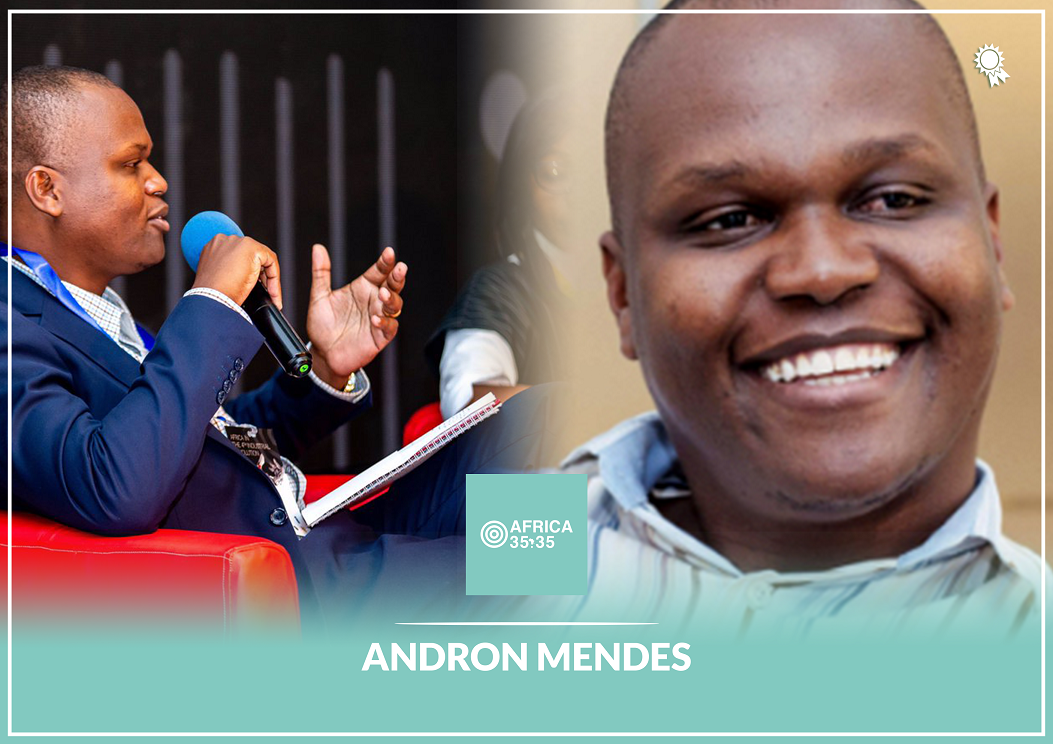 At 35, Andron Mendes joined in early 2020 the small circle of Tanzanian local billionaires, selling his green energy innovation launched six years ago for $ 25 million. KopaGas is an environmentally friendly, prepaid cooking gas service technology. The deal was billed as the largest pure private equity investment ever in the clean cooking technology sector in Africa.
Hassan Bourgi (34ans) et Régis Bamba (32ans) Côte d'Ivoire 
« Traditional banks could no longer meet our needs and surely that of millions of people in the region. Goodbye frustration »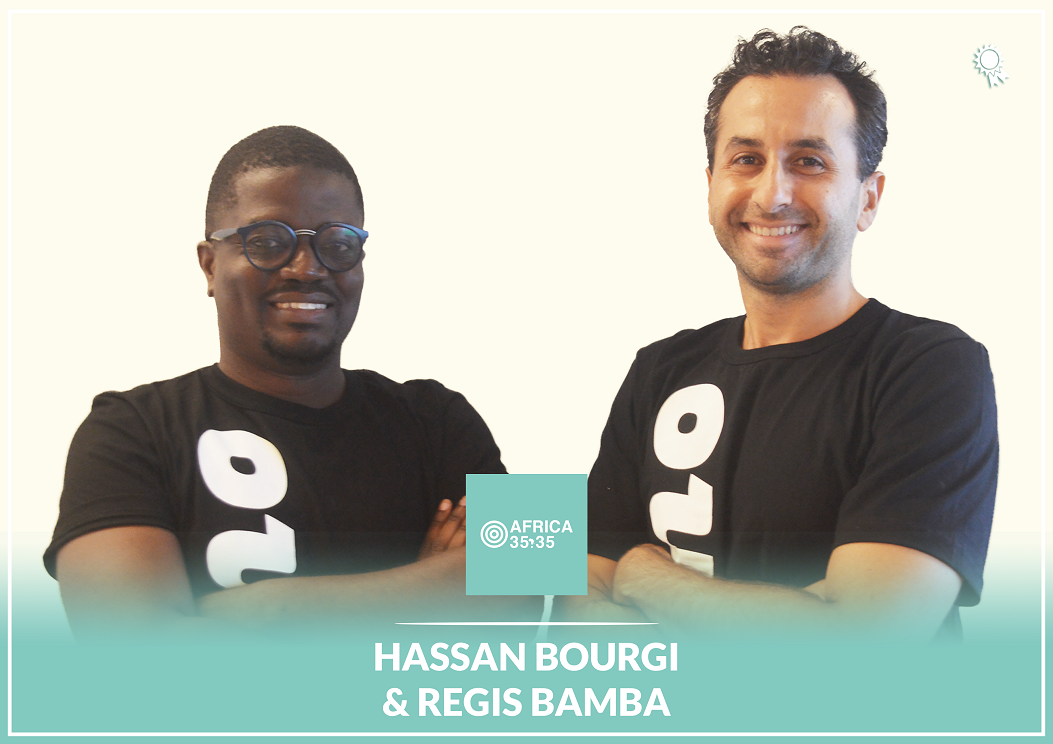 Launched in 2019 "Djamo" is the fastest growing fintech company in Cote d'Ivoire allowing users to control their finances from their mobile phone. The innovation is a response to the limitations of traditional banking systems. It aims to strengthen financial inclusion and lighting speed banking services in the West Africa Economic and Monetary Union area, with a secure online platform. Their invite-only bank card has already won over 60,000 users.
THE AFRICAN YOUTH OF THE YEAR FEMALE
Aya Chebbi, 32 yo, Tunisia 
« Raising the voice of African youth »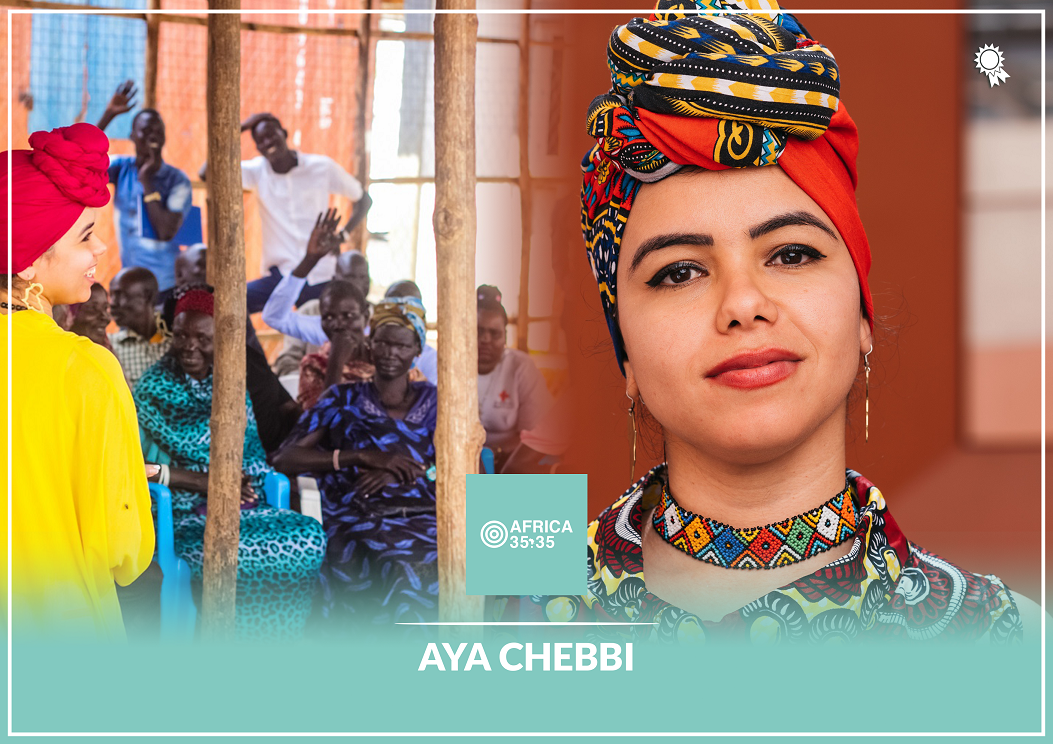 Aya Chebbi is the first-ever African Union Special Envoy on Youth and the youngest diplomat in the Office of the Chairman of the African Union Commission.
She became known as a spokesperson for democracy and a political blogger during the Tunisian revolution of 2010/2011. Since then, Aya Chebbi has changed the landscape of diplomacy and public service thanks to her advocacy. She did a tremendous job in the midst of the COVID-19 pandemic to amplify, unite and mobilize millions of young Africans through the hashtag #AfricaYouthLead to rally for collective youth response. She recently pioneered at the African Union, the largest youth campaign called « Youth Silencing the Guns » which mobilized leaders of the African Union and the Peace and Security Council who adopted on 23rd June 2020, the Framework for youth, peace and security. Aya Chebbi has previously served or serves on the board of directors of CIVICUS, the World Refugee Council, the African Foundation for Public Health among others.
THE AFRICAN YOUTH OF THE YEAR MALE
Joseph-Olivier BILEY, 27 yo, Cote d'Ivoire ; 
« Leveraging AgriTech to boost productivity »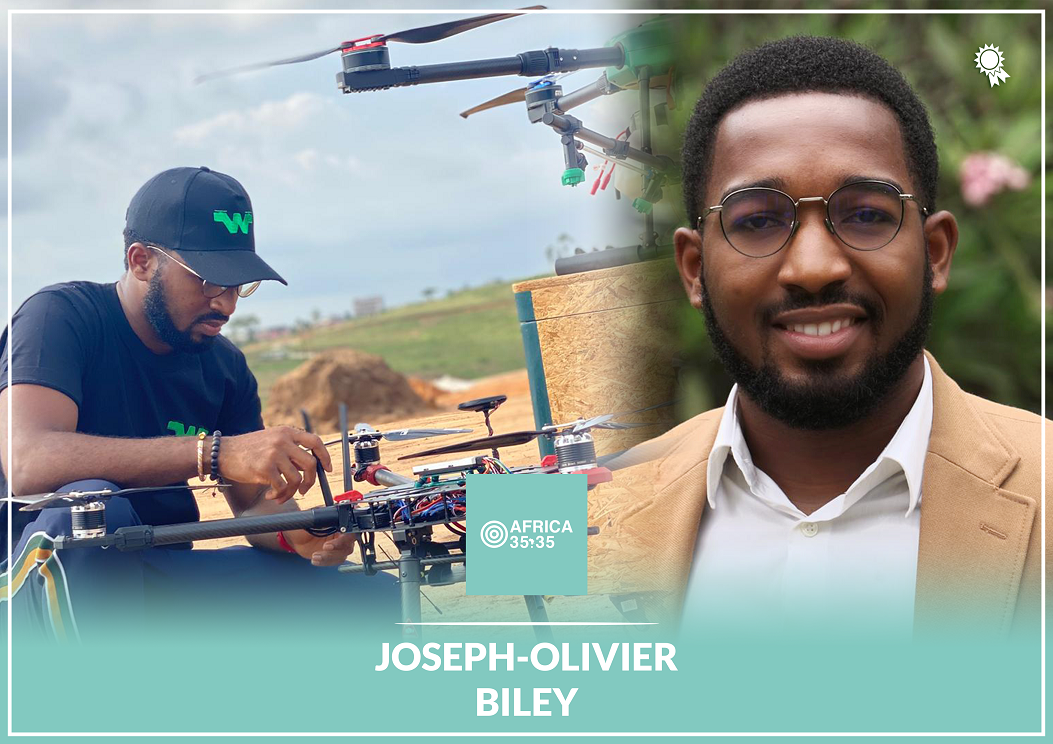 Joseph-Olivier BILEY believes that the agricultural revolution in Côte d'Ivoire will not take place without technology. To modernize the management of agricultural cooperatives and farmers, Joseph-Olivier BILEY launched in 2017 WEFLYAGRI, which makes use of drones and has its own software entirely developed in Côte d'Ivoire — to offer various services (mapping, phytosanitary diagnosis, aerial spraying). He supports close to 60,000 corn farmers in digitizing the equivalent of 60% of the sector. Joseph-Olivier BILEY heads also the startup JooL Africa (first field robot 100% made in Cote d'Ivoire).
In early 2020, as part of a partnership with the United Nations Development Programme, he provided two prototypes of drones made in Cote d'Ivoire to fight covid-19.
REMARKABLE FOR AFRICA (SPECIAL PRIZES)
Ameyaw KISSI-DEBRAH, Ghana
« Reaching for the stars »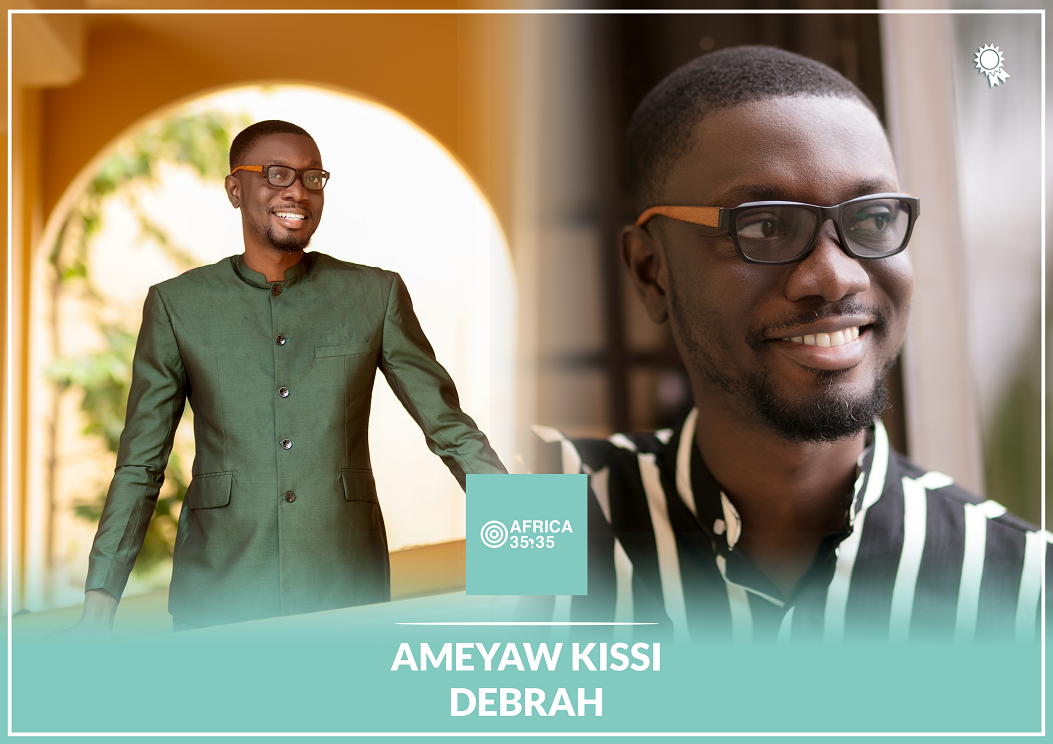 Renowned Ghanaian blogger, freelance journalist and reporter, Ameyaw Kissi-Debrah left the Ghanawebdotcom platform in 2017 to launch AmeyawDebrah.com, his popular website dedicated to entertainment and celebrity news. In 2018, a web TV branch became operational. His work has allowed him to interview several personalities including Kofi Annan, Reverend Jesse Jackson, Lloyd, John Legend, Ade Bantu, Amber Rose, Majid Michel and John Dumelo.
Jerome Munyangi, Congo RDC
« Embracing artemisia as a remedy for diseases »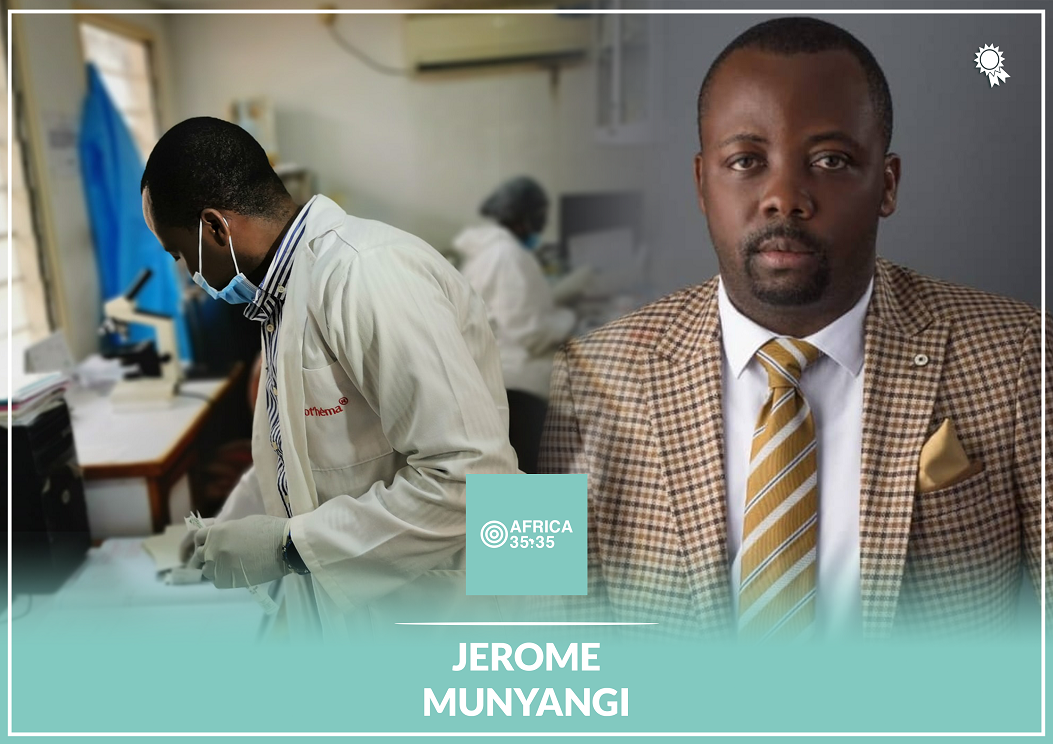 Head of clinical trials and medical and scientific research at La Maison de l'Artemisia in Paris, Dr Jérôme Munyangi is the author of the protocol he called "Covid-Artemisia" which made it possible to develop the Covid-Organics, then revealed by the President of Madagascar. Recalled in May 2020 in his country the Democratic Republic of Congo, Jerome Munyangi's mission is to carry out clinical trials to prove the effectiveness of the infusion of artemisia against Covid-19. Whether this proves successful or not, Africa to him could gain immensely from cultivating its cultural, medicinal and traditional heritage if we develop, fund and support our own research.
Divina Stella Malloum, 16 yo, Cameroon
« Young and powerful »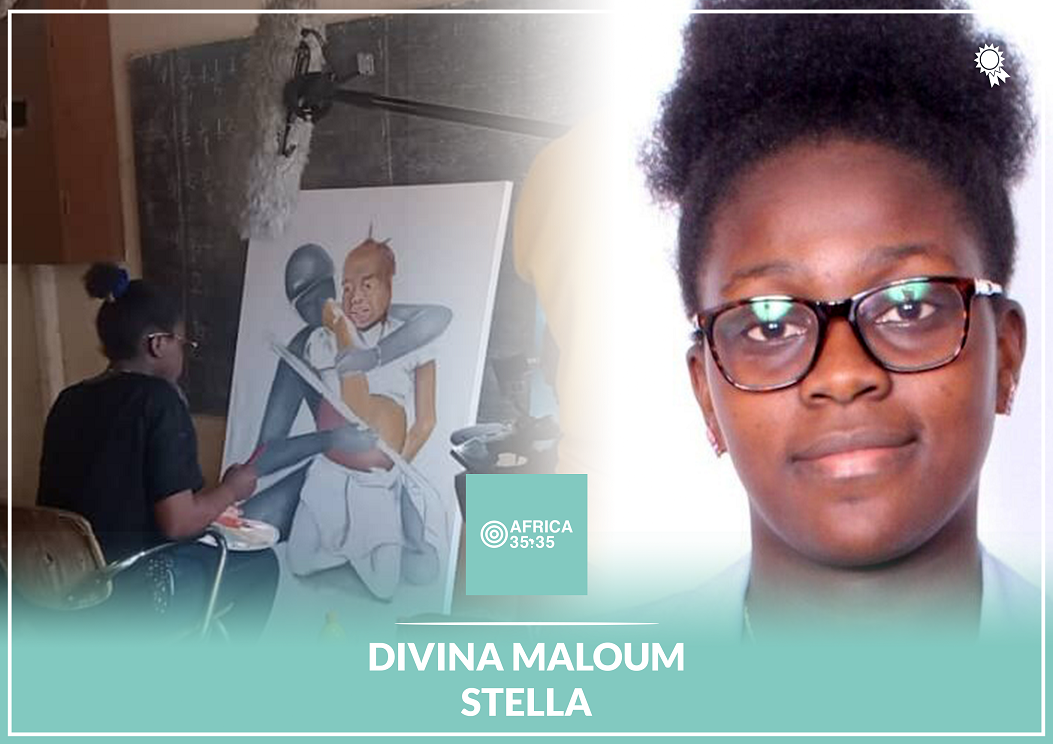 Traveling in northern Cameroon with her family in 2014, Divina Stella Malloum noted with bitterness the disastrous consequences of terrorist attacks in her country. The country is facing a severe "partition crisis" known as the "Anglophone crisis" triggered by secessionists. The teenager founded the « Children for Peace » movement to consolidate peace and promote gender equality and children's rights. Thanks to her work, 3,000 children have engaged in intercommunity dialogue, 47 children's peace clubs are operational. Girls are at the heart of this transformational change. In 2019, the then 15-year-old Divina Maloum was awarded, along with Swedish environmental activist Greta Thunberg, the "International Children's Peace Prize" for her peaceful fight against extremist violence and radicalization. Children for Peace in numbers: 25,000 girls trained in ICT, 120 media channels mobilized and more than 40,000 disadvantaged children / victims of the crisis supported, according to her NGO statistics.
Meet the laureates of previous editions here