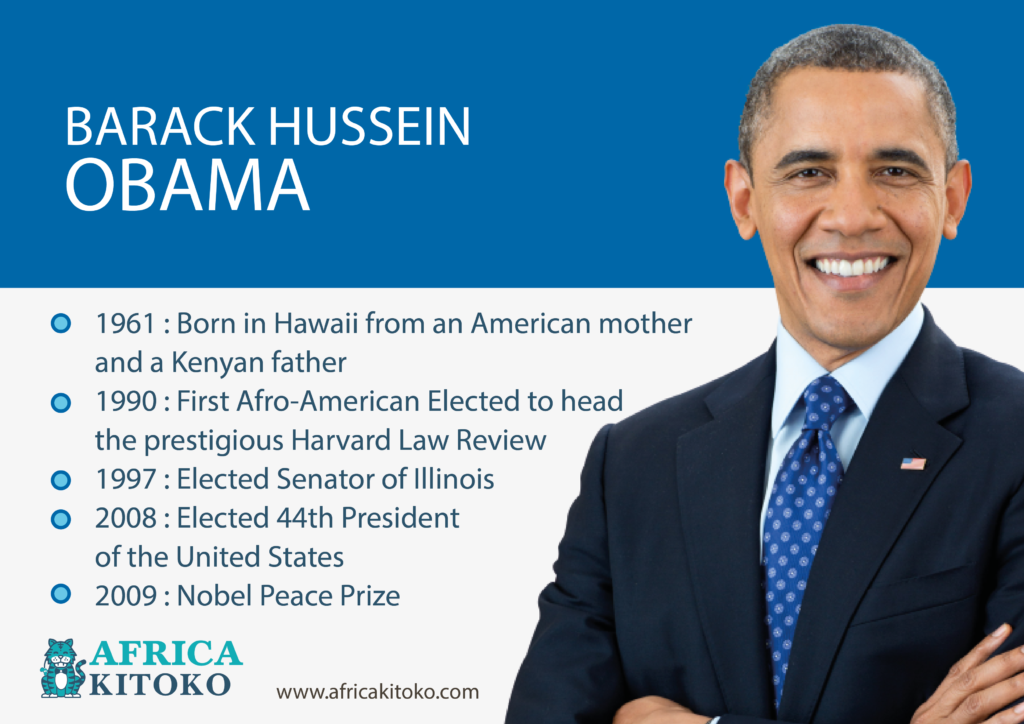 Barack Hussein Obama II, born August 4, 1961 in Honolulu (Hawaii), is an American politician. He is the 44th President of the United States, in office from January 20, 2009 to January 20, 2017.
Son of a black Kenyan and a white American from Kansas of English and Irish descent, he was raised for several years in Indonesia. A graduate of Columbia University in New York and Harvard Law School, in 1990 he was the first African American to chair the prestigious Harvard Law Review. After having been a social worker in the southern neighborhoods of Chicago during the 1980s, then a civil lawyer after leaving Harvard, he taught constitutional law at the University of Chicago from 1992 to 2004.
He was elected to the Illinois Senate, where he served three terms, from 1997 to 2004. He opposed the Iraq War launched by George W. Bush and made himself known at the national level by the speech he pronounced in July 2004 during the National Democratic Convention which nominated John Kerry as presidential candidate.
After failing to obtain the Democratic Party's nomination for the House of Representatives in 2000, he was elected to the Federal Senate in November 2004. He then ran for the Democratic presidential primaries against Hillary Clinton; ahead of the number of votes, he won with a slight advance in terms of large voters and thus became the party's candidate.
He won 52.9% of the vote and 365 major voters in the 2008 presidential election against the Republican John McCain. He is the first black man to hold the presidency of the United States. Her journey has aroused great interest among voters and the media worldwide.
In power, he orders the raid that leads to the assassination of Osama bin Laden, the United States' No. 1 public enemy.
He established Obamacare, a system where the state subsidizes low-income families who do not have access to private care.
He won the Nobel Peace Prize in 2009.