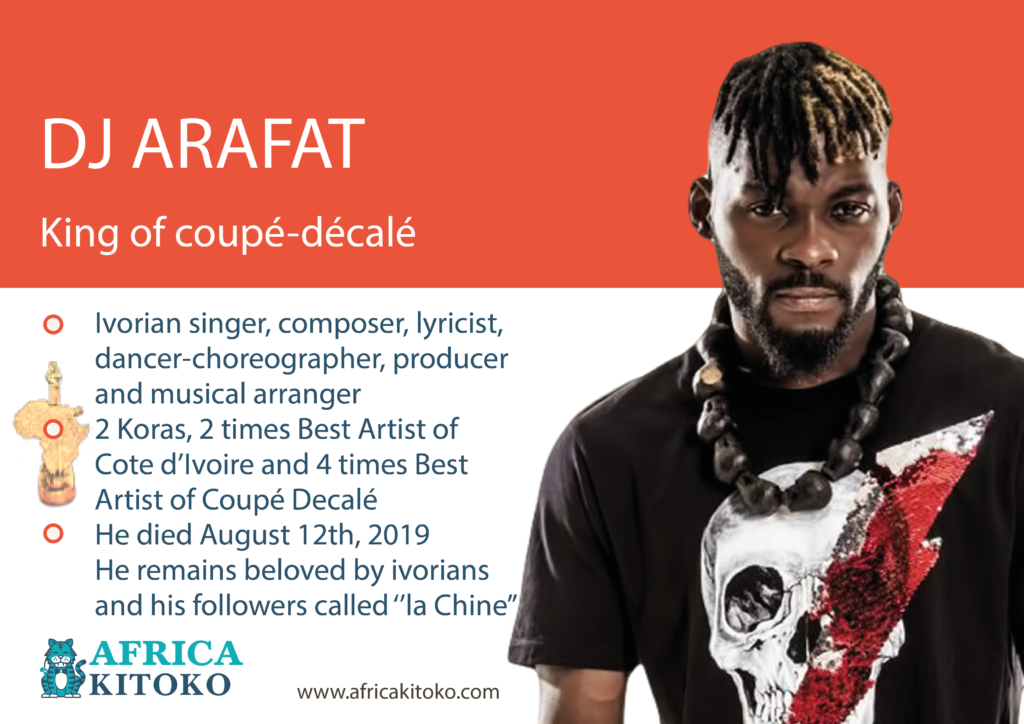 Ange « DJ Arafat » Didier Houon, was born on January 26, 1986 in Yopougon. He is a singer, composer, lyricist, dancer-choreographer, producer and Ivorian musical arranger. He is considered one of the greatest singers in sub-Saharan Africa. He is also called the king of the Coupé Décalé, because of his considerable influence on Ivorian musical culture.
Since the release of his first hit in tribute to DJ Jonathan, Arafat DJ has undoubtedly become the most popular singer in the country. Each of the singles released since has encountered a great success. Yorobo proves once again that its source of inspiration is inexhaustible.
We observe throughout his young career, a change in vocal and musical style. He went from the classic coupé décalé of the early hours of this musical movement to a more sophisticated sound. His voice has become more rock, the instruments more worked and more electronic, mixing new sounds, with an important place given to the drums. We are talking today about a kind of "African Rock" and "African Electro". The song "Rage 202" for example, is a mix of heavy metal and cut-and-off tones.
He is considered outside of his native country as the ambassador for the coupé-décalé.
In 2012, he received two awards: Best African Artist of the Year and Best Male Artist of West Africa at the Kora Awards. A coronation which positions him as an ambassador of African music in the world.
During his career, he won 2 koras, the prize for the best artist in the Ivory Coast twice and the best artist in coupé-décalé four times.
Extremely influential, he raised a nation of fans called « China », of which he proclaimed himself the emperor.
Admirer and motorcycle practitioner, his passion cost him his life on August 12, 2019.
He is distinguished Officer in the order of Ivorian cultural merit