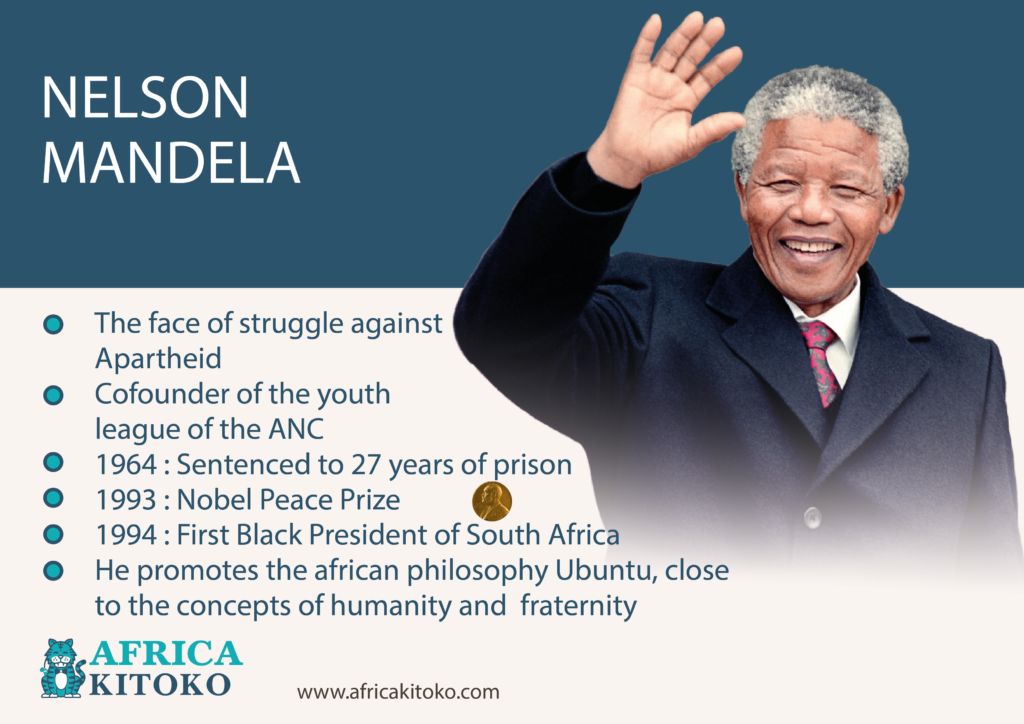 Nelson Rolihlahla Mandela, whose tribal clan name is « Madiba », was born on July 18, 1918 in Mvezo (Cape Province) and died on December 5, 2013 in Johannesburg (Gauteng). He's a South African politician and one of the historic leaders in the fight against the institutional political system of racial segregation (apartheid). He made history by becoming president of the Republic of South Africa from 1994 to 1999, following the first non-segregationist national elections of the history of the country.
Nelson Mandela entered the African National Congress (ANC) in 1943 to combat the political domination of the white minority and the racial segregation imposed by it. Having become a lawyer, he participated in the non-violent struggle against the apartheid laws, implemented by the government of the National Party from 1948. The ANC was banned in 1960 and, as peaceful struggle did not give Tangible results, Mandela founds and directs the military branch of the ANC, Umkhonto we Sizwe, in 1961, which carries out a campaign of sabotage against public and military installations. On August 5, 1962, he was arrested by the South African police on the instructions of the CIA, then was sentenced to prison and forced labor for life during the Rivonia trial. From then on, he became a symbol of the struggle for racial equality and enjoyed increasing international support.
He remained incarcerated for 27 years … but still as popular, was elected on April 27, 1994 to the presidency of his country only a few years after his release from prison. He then became the first black president of South Africa, for a single presidential mandate, until 1999. His whole existence revolved around the fight against racial segregation. For this, he won the Nobel Peace Prize in 1993. Towards the end of his life, he no longer participated in political life but turned to charitable associations. Nelson Mandela died on December 5, 2013 at the age of 95.