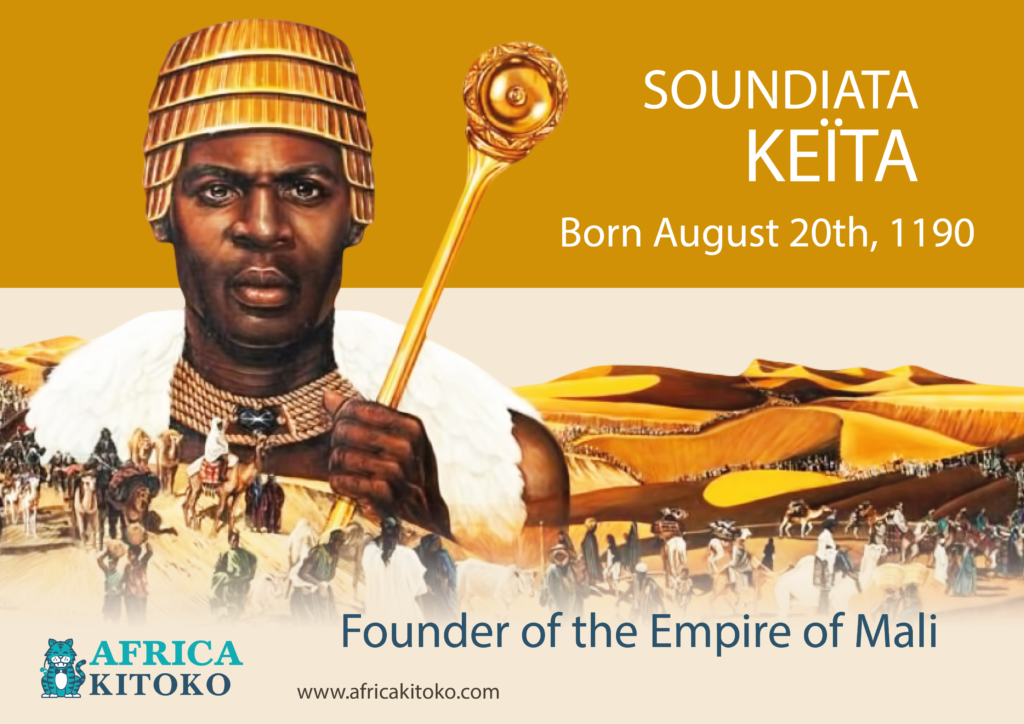 Soundiata Keïta, born August 20, 1190 in Niani in the Kingdom of Manding, is a Mandingo sovereign of West Africa, founder of the Mali Empire.
Child of King Naré Maghan Konaté and his second wife, Sougoulou Konté, Soundiata was born paralyzed. Legend has it that little Soundiata was crippled and crawled until the age of seven.
On the death of Naré Maghan, in 1218, Dankaran Keïta, eldest son of the deceased king took power. Soundiata and her mother become the permanent object of contempt for the new king. After an affront to her mother, Soundiata, at the age of seven, managed to get up. He miraculously covered the use of his legs when he touched the royal staff. But the hatred of Dankaran Keïta drove Soundjata and his mother into exile.
Soundiata will thus become in exile, a hunter known for his skill, and will make the disabled child forever forget that he has been a long time.
During this exile, the king of Sosso, Soumaoro Kanté attacked the kingdom of Manding. Dankaran Keïta, flees and the Manding Empire is devastated. The inhabitants of Manding then go to look for Soundiata in his exile and ask him to take his inheritance either: « Kien » (inheritance) and « Ta » (take), which became « Kienta » (take your inheritance) and thereafter  » Keïta ".
Soundiata decides to return home to face Soumaoro. To this end, he trains and gathers warriors. Soundiata Keïta manages to gather under his command the armies of different small kingdoms fighting against the Sosso empire.
To learn the secret of Soumaoro Kanté's invulnerability, Soundiata sends his sister Djegue, who according to legend learns that « Only an arrow carrying the lug of a white rooster can kill the king of Sosso ». Soundiata does the necessary with the help of the magicians attached to his service.
Bringing together the forces of different small kingdoms fighting the Sosso, Soundiata Keïta formed an army and succeeded in defeating the army of Soumaoro Kanté in 1235 at the battle of Kirina. His enemy flees and eventually disappears into a mountain in Koulikoro.
Soundiata Keïta brings together all the kingdoms to form the Mali Empire. He is proclaimed « Mansa » which means « King of kings », and establishes his capital in Niani, his hometown (today a village in Upper Guinea). During his enthronement, the brotherhood of hunters of the Mandé proclaimed the Manden Charter, which would abolish slavery and would be one of the first declarations of human rights.
The Badou Sakho from Bakel still make sacrifices today in memory of Soundiata, who, according to legend, has turned into a hippopotamus.