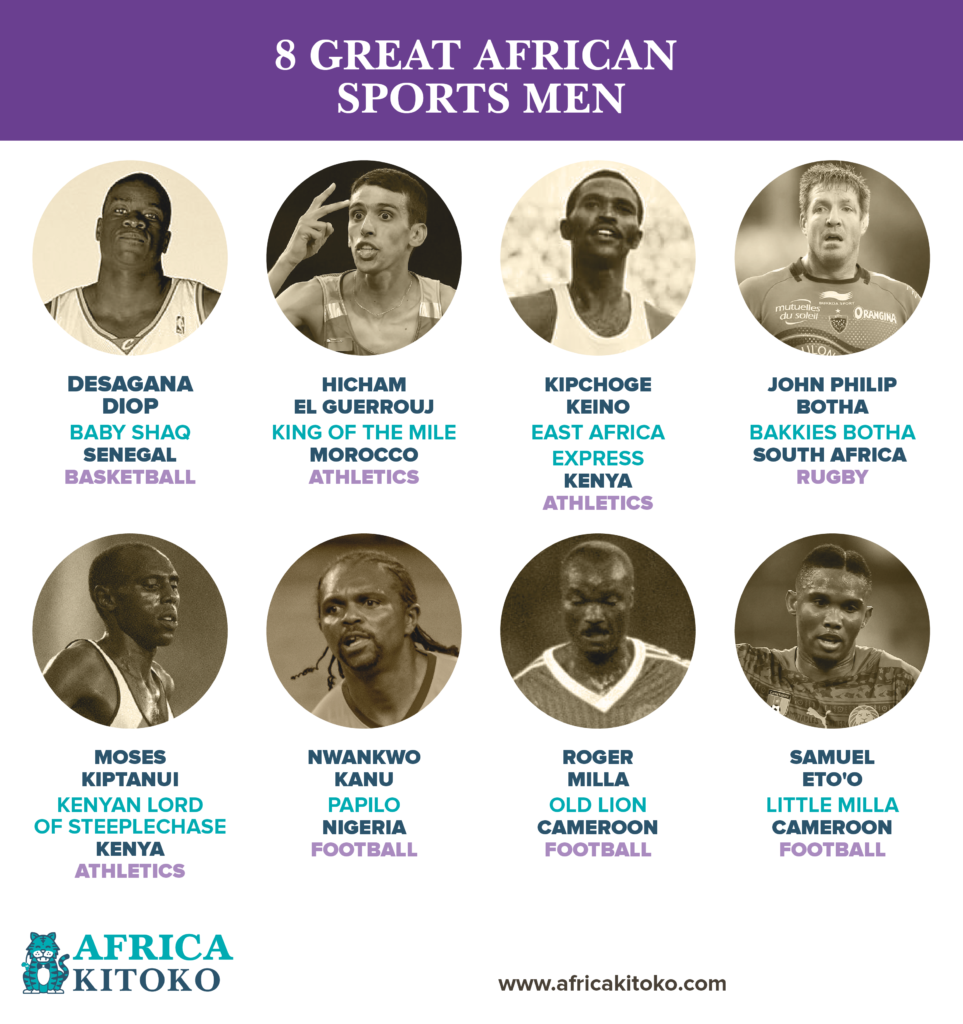 Ngagne DeSagana Diop, or DeSagana Diop, or Gana Diop
(born January 30, 1982 in Dakar) is a Senegalese professional basketball player. It is a training pivot (2.13 m, 127 kg). He was a 2006 NBA finalist with Dallas
Diop is above all a defense specialist. He is an excellent blocker thanks to his large wingspan, and he is athletic and mobile enough to hold pivots faster than him. Even if his attacking play is quite limited, he has a small four, five meter shot that he hardly ever uses. He often just crushes a dunk or two.
Diop's defense is recognized and applauded. During the 2005-2006 season, he ranked 11th in the total number of blocks, 14th in the number of blocks per game and second in the number of blocks per 48 minutes.
Hicham El Guerrouj
born September 14, 1974 in Berkane, is a Moroccan athlete specializing in long distance and middle distance races. He is considered the best Moroccan athlete of all time.
He was a gold medalist at the Olympic Games in Athens in 2004
Kipchoge Keino a.k.a Kip Keino
 (born January 17, 1940 in Kipsamo) is a Kenyan athlete. He is considered to be the precursor of the tradition of runners of the high plateaux, dominators of middle distance races and more particularly of the 3000 m steeplechase, distance which is the preserve of the Kenyan runners. He was the first African to impose in the middle distance.
John Philip Botha
better known as Bakkies Botha, he was born on September 22, 1979 in Newcastle in Natal in South Africa. He is a South African rugby player, playing in the second line position. He was winner of the rugby world cup in 2007
He retired from sport at the end of the 2014/2015 season, wishing to return to South Africa to take care of his farm, his wife and children.
Moses Kiptanui
(born October 1, 1970 in the Marakwet district) is a Kenyan long distance runner. He is considered one of the best runners in 3000 m steeplechase, thanks in particular to his three victories at the World Championships in 1991, 1993 and 1995. To these three titles are added a world silver medal in 1997 and a silver medal at the 1996 Olympic Games. He is the former world record holder in the 3,000 m steeplechase, the 3,000 m and the 5,000 m.
Nwankwo Kanu
officially born on August 1, 1976 in Owerri, is a Nigerian international footballer. He progresses to the position of attacker.
African gold ball in 1996 and 1999, he notably won the Olympic Games in 1996 with the Nigerian Olympic selection, the Champions League in 1995 with Ajax Amsterdam and the UEFA Cup in 1998 with Inter Milan.
Roger Milla, 
born Albert Roger Mooh Miller on May 20, 1952 in Yaoundé, Cameroon, is a former Cameroonian footballer who played at the center forward position and will have marked an entire world generation of football after his participation in the 1990 World Cup in Italy. He is nicknamed « the old lion « .
He celebrates his goals by performing the makossa dance in front of the corner post
Samuel Eto'o Fils,
 born March 10, 1981 in Nkon (Yaoundé) in Cameroon, is a former Cameroonian international footballer who played as a striker.
Samuel Eto'o achieved the treble (championship – Cup – Champions League) with two different clubs. Indeed, in 2009, he won the La Liga, the King's Cup and the Champions League with FC Barcelona, ​​then in 2010, he won the Scudetto, the Italian Cup and the Champions League with Inter Milan . He also won the 2010 Club World Cup with Inter Milan, winning 3-0