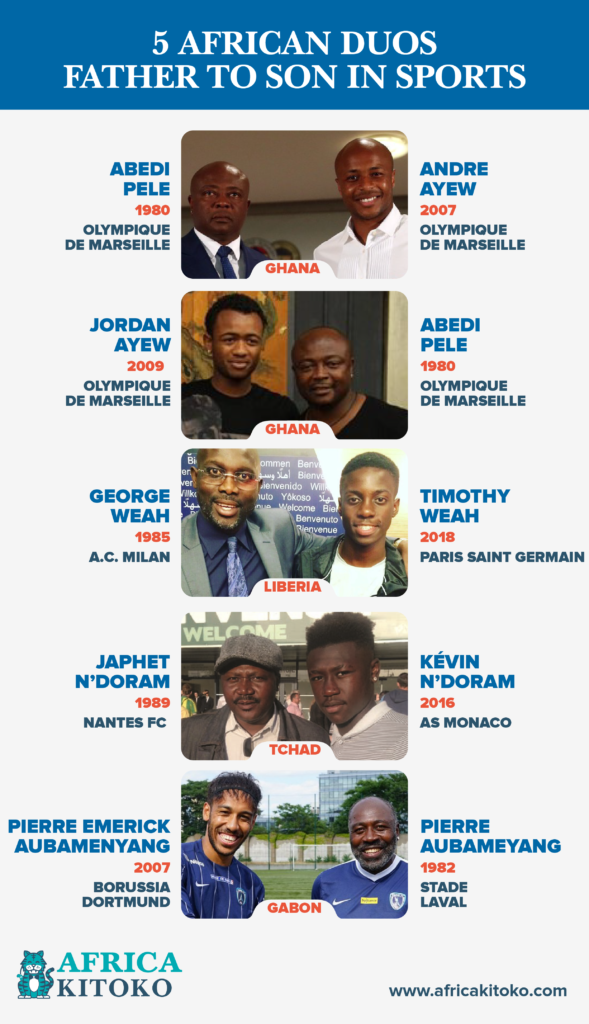 – Pierre-Emerick Aubameyang
Son of the famous Gabonese international footballer Pierre-François Aubameyang. The 29-year-old is currently playing as a striker at Arsenal and on the Gabon national team. He was best African player of the year 2015, he won the Caf XI African prize. He has two brothers who also do football.
– André Ayew:
Son of the famous Ghanaian player Abedi Pelé, André is the older brother of Jordan Ayew. He plays in the Ghanaian football team as well as in Fenerbahçe SK of Turkey, as a striker. Now 28, you could say he had a good career.
– Jordan Ayew
Like his older brother and their father, Jordan also got into football, and you could say that he has a brilliant career just like that of father and brother. He left his suitcases at Crystal Palace where the Ivorian Wilfried Zaha plays as an attacker.
– Timothy Weah:
Son of Georges Weah, former Liberian goalscorer, now president of the Liberian republic. Timothy, only 18, striker, wears the colors of Paris Saint-Germain where his father also played from 1992 to 1995. You should know that his father is the only African footballer to have been a golden ball in 1995.
-Kévin N'Doram
Born January 22, 1996 in Saint-Sébastien-sur-Loire, is a French footballer who plays as a defensive midfielder at FC Metz. He can also progress to the position of central defender. He is the son of ex-soccer player Japhet N'Doram.