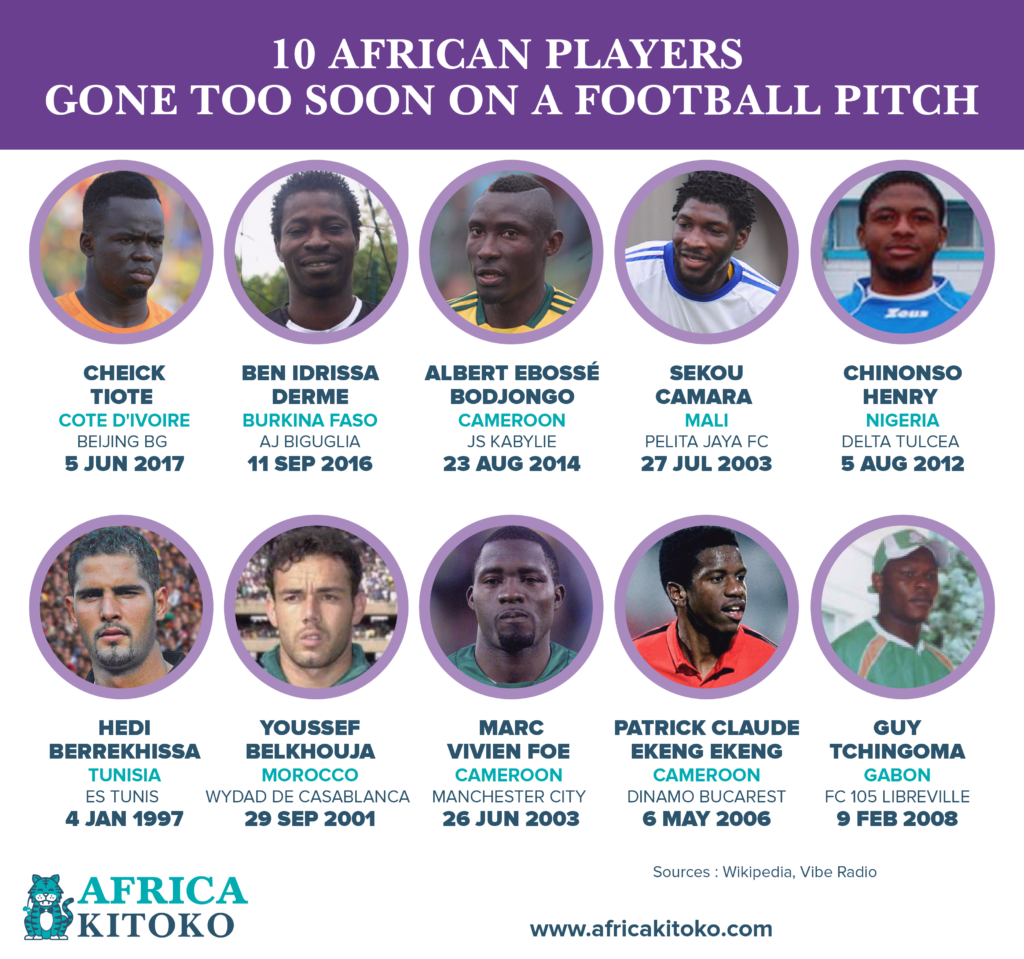 They were talented and ambitious young players. Their abrupt deaths have shocked the world of football. 
Cheick Tiote, Cote d'Ivoire
Beijing BG, June 5th, 2017 
He died of a heart attack 
Ben Idrissa Derme, Burkina
Aj Biguglia, September 11th, 2016 
He suffered a heart attack moments before the end of a match for the Coupe de France
Albert Ebosse Bodjongo, Cameroon
JS Kabylie, August 23rd, 2014 
He died at the end of a match after receiving a stone, thrown from the stands, on his carotid artery and died.
Pelita Jaya FC 27th, July 2003 
The cause of death is a heart attack 
Delta Tulcea, August 5th, 2012 
The cause of his death is a heart attack 
Marc Vivien Foe, Cameroon 
Manchester City, June 26th, 2003 
He died of hypertrophic cardiomyopathy 
Youssef Belkhouja, Morocco 
Wydad de casablanca, September 29th, 2001 
He died of a heart attack in the middle of a Derby 
Hedi Berrekhissa, Tunisia 
ES Tunis, January 4th, 1997 
Died of cardiac arrest during a friendly match 
Patrick Claude Ekeng Ekeng, Cameroon 
Dinamo Bucharest, May 6th, 2006 
He died of a heart attack 
Guy Tchingoma, Gabon Fc 105 Libreville, 
February 9th, 2008 
He collapsed and died after the game