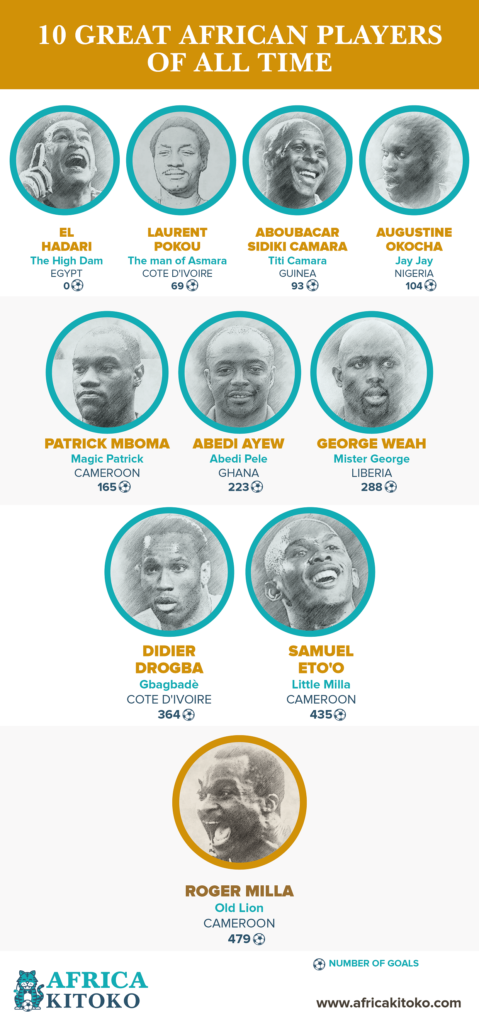 Roger Mooh Miller
Born Albert Roger Mooh Miller on May 20, 1952 in Yaounde, Cameroon, Roger Milla is a former Cameroonian footballer who played as a centre-forward and scored a world football generation after his participation in the 1990 World Cup in Italy. Nicknamed the Old Lion, he scored 479 goals in his career. He has won the Africa Cup of Nations twice (in 1984 and 1988) and is a double African gold ball (1976 and 1990).
Samuel Eto'o Fils
Born on 10 March 1981 in Nkon (Yaounde) in Cameroon, Eto'o is a former Cameroon international footballer who played as a striker. He is nicknamed little Milla and has 435 goals in his career. He won the Africa Cup of Nations in 2000 and 2002 and the title of Olympic champion in 2000. He is a quadruple African Gold Ball 2003, 2004, 2005 and 2010.
Didier Drogba
Born on 11 March 1978 in Abidjan, Drogba is an Ivorian international footballer who played as a striker. He began his career in France, at Le Mans Union Club 72. He joined Ligue 1 with En Avant de Guingamp, then played his first European matches under olympique de Marseille.
He was nicknamed « Gbagbadè » and scored 364 goals in his career. He is a double African Ballon d'Or 2006,2009. He is a finalist at the 2006 and 2012 Africa Cup of Nations.
George Weah
Born on October 1, 1966 in Monrovia, George Weah is a former international footballer and Liberian statesman, President of the Republic of Liberia since January 22, 2018. He's nicknamed Mister George. He scored 288 goals in his career. He was elected Ballon d'Or in 1995 and African Golden Ball 1989 and 1994.
Abedi Ayew
Abedi « Abedi Pelé » Ayew (born November 5, 19641 in Dome, Ghana) is a Ghanaian footballer. A playmaker in the axis or off-center, and sometimes a supporting striker, he was one of Africa's best players in the early 1990s, winning three African gold balls (1991, 1992 and 1993).
Winner of the African Cup of Nations in 1982, he scored 223 goals in his career.
Patrick Mboma
Born on November 15, 1970 in Douala, Cameroon, Mboma is a Cameroonian footballer. He's nicknamed Magic Patrick.
Winner of the Africa Cup of Nations in 2000 and 2002. He was nominated African Player of the Year in 2000 and scored 165 goals in his career.
Augustine Azuka Okocha,
Better known as Jay-Jay Okocha, he was born on August 14, 1973 in Enugu. He is a former Nigerian international footballer who played as an attacking midfielder.
Winner of the African Cup of Nations in 1994, he scored 104 goals in his career.
Aboubacar Sidiki Camara,
Nicknamed Titi Camara, Sidiki is a former Guinean international footballer, born on November 17, 1972 in Conakry, Guinea. « Titi » played as a striker and his specialty was his speed, worthy of a « hundred meters » runner.
He was selected numerous times for the Guinean team, of which he is the top scorer with 30 goals, including 3 scored at the 2004 CAN. He scored a total of 93 goals for the national team.
Laurent Pokou,
With his full name Laurent N'Dri Pokou, he is an Ivorian football player and coach, born on August 10, 1947 in Treichville and died on November 13, 2016 in Cocody, two municipalities of the metropolitan area of Abidjan. He played as a forward from the mid-1960s to the early 1980s, before serving as a coach until 1988.
He made his name nationally while playing with USFRAN Bouaké and then ASEC Abidjan, a club with which he won most of the titles on his list. The starting centre-forward of the Ivory Coast team gained international recognition by winning the title of top scorer at the African Cup of Nations in 1968 and 1970. His record of fourteen goals, scored in these two editions of the competition, was not broken until 2008, by Samuel Eto'o. Seen by the media and his peers as a spectacular player, fast, dribbler, and an effective scorer, he twice climbs on the podium of the African Ballon d'Or, in 1970 and 1973.
Sometimes compared to his contemporary Salif Keïta, and his successor in the Ivory Coast team Didier Drogba, he is considered one of the best players in the history of Ivorian and African football. He was nicknamed the Man of Asmara, and scored 69 goals in his career.
Essam el-Hadary
El-Hadary was born on January 15, 1973 in Damiette and is an Egyptian international footballer who plays as a goalkeeper.
During his career, Essam el-Hadari won 37 trophies in clubs and in selection. He is nicknamed The Great Dam. He won of the African Cup of Nations: 1998, 2006, 2008, 2010, and was nominated each time for best goalkeeper of the competition.