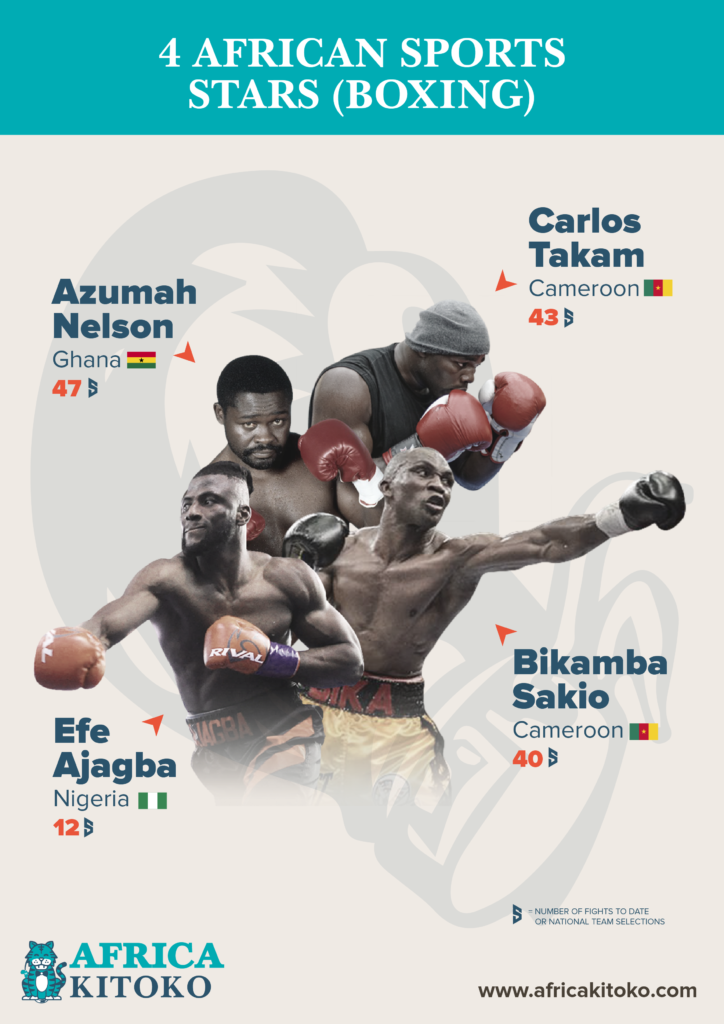 Azumah Nelson: a Ghanaian boxer born September 19, 1958 in Accra. Passed professional in 1979, he won his first 13 fights including 10 by knockout
He is WBC featherweight world champion (1984-1987), WBC super featherweight world champion (1988-1994, 1995-1997). Azumah Nelson is widely regarded as the greatest African boxer of all time and a member of the International Boxing Hall of Fame since 2004. He has recorded 47 fights to date.
Sakio Bika: is a naturalized Australian Cameroonian boxer born on April 18, 1979 in Douala, Cameroon.
He is Australian middleweight champion (2003-2004), is Asian OPBF middleweight champion (2004-2005), He is WBC super middleweight world champion (2013-2014). He counts 40 fights to date.
Armand Carlos Netsing Takam: is a professional Franco-Cameroonian boxer born on December 6, 1980 in Douala. He has been the WBC Silver and WBF heavyweight world champion since 2013. He has recorded 43 fights to date.
Efe Ajagba: (born April 22, 1994) is a professional Nigerian boxer. As an amateur, he won a gold medal at the 2015 African Games and a bronze medal at the 2014 Commonwealth Games. As a professional, Ajagba holds the record for the fastest victory in the history of boxing after his opponent has been disqualified for leaving the ring 1 second after the opening bell.