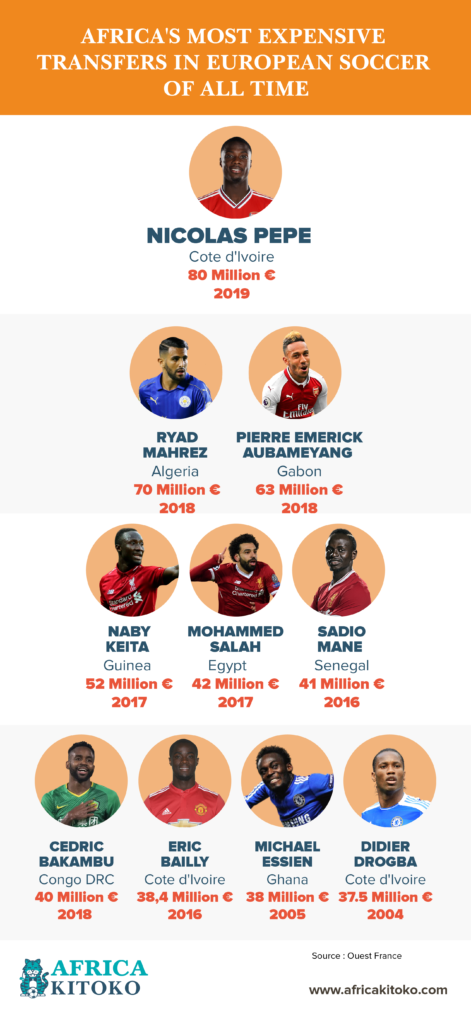 African players are increasingly sought after due to their talents. Many European clubs are betting crazy sums for these assets. Discover the top 10 of the most expensive African players in history.
10th: Didier Drogba – 37.5 million
After an incredible season in Ligue 1 with Marseille where he was named best player (19 goals), Didier Drogba became in 2004 the most expensive African player. He is transferred for 37.5 million euros to Chelsea.
Michael Essien – 38 million
And it's Chelsea which are still in action. In 2005, and after two huge seasons with Olympique Lyonnais, Michael Essien joined Drogba in London for a slightly higher sum (38 million euros).
Eric Bailly – 38.4 million
Then 22 years old, Eric Bailly made a strong impression at Villarreal, in one of the most impermeable defenses in the Spanish league. In search of a quality defender, Manchester United of José Mourinho (again) are turning to the Ivorian. He will sign a 4-year contract, his transfer fee is estimated at just over 38 million euros.
Cedric Bakambu – 40 million
It was the surprise transfer of the 2018 winter . Very good at Villarreal, Cedric Bakambu decides against all odds to join Beijing Guoan. The Spanish club will receive 40 million euros in the transaction.
Sadio Mané – 41 million
What a good move from Liverpool. Transferred from Southampton to Liverpool in the summer of 2016 for 41 million euros, Sadio Mane subsequently exploded in the Reds jersey. Winner of the 2019 Champions League, his market value has more than doubled.
Mohamed Salah – 42 million
If Sadio Mane is a very good pick for the Reds, what about Mohamed Salah. A little more discreet this season, Mohamed Salah is nonetheless an exceptional player. Incredible in the 2017-18 season, it cost the Reds 42 million euros. Given his incredible performance, AS Roma can be kicking themselves pretty hard.
Naby Keita – 52 million
Obviously a fan of African players, Liverpool will also recruit Naby Keita this same year. Arriving for
€52million from RB Leipzig, Naby Keita will take some time to establish himself in the midfield of the pack for the Reds, before becoming an important part of Jürgen Klopp's scheme.
Pierre-Emerick Aubameyang – 63 million
In search of a strong attacking reinforcement, Arsenal will set their sights on Gabonese Pierre-Emerick Aubameyang in the winter of 2018. Author of 141 goals in 212 appearances for Dortmund, Arsenal do not think twice and offer 63 million euros to the German club to afford the former Stephanois. He was, before the recruitment of Nicolas Pepe, the most expensive recruit of the Gunners.
Riyad Mahrez – 70 million
Riyad Mahrez who is an algerian international, a former Le Havre AC player and England champion with Leicester in 2016, signed a contract with Manchester City last summer for around 70 million euros. Author of 17 goals in Leicester's incredible title season under Italian coach Claudio Ranieri, Mahrez won the Player of the Year award from the Premier League professional players association in 2016. All these achievements mentioned above convince Pep Guardiola to spend so much for the Algerian.
Nicolas Pepe: 80 million
With a transfer estimated at 80 million euros without adds-on, Pepe who was the main player (22 goals, 11 assists) of the excellent season of Lille, 2nd in Ligue 1 behind the inaccessible Paris SG. With this transfer fee, he knocks on the doors of the top 15 of the most expensive transfers in the history of football.
Above all, he becomes the most expensive African player in history, wiping out Congolese Cedric Bakambu, who moved from Villarreal to Chinese club Beijing Guoan for EUR 74m in winter 2018.
Pepe also comes on as Arsenal's most expensive transfer. Huge pressure on the frail shoulders of the man who completely missed out on his African Cup of Nations with Cote d'Ivoire in June.