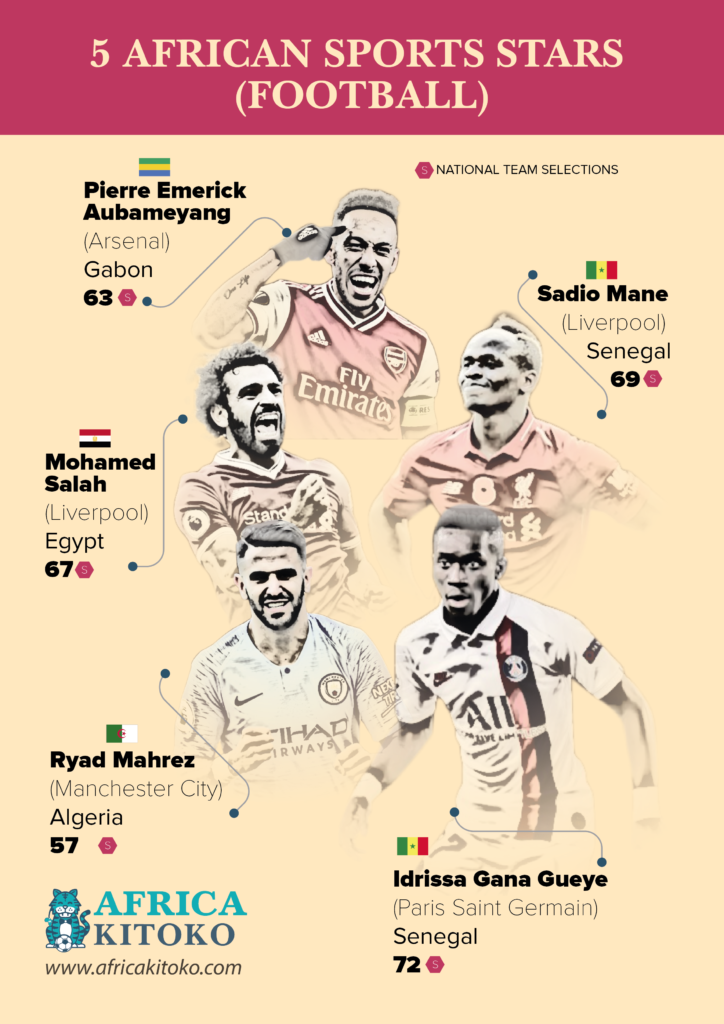 Mohamed Salah, Sadio Mané, Pierre Emerick Aubameyang, Riyad Mahrez, Idrissa Gana Gueye, Discover these geniuses of the football that are the pride of Africa.
– Mohamed Salah, by his full name Mohamed Salah Ghaly, sometimes nicknamed Mo Salah, born June 15, 1992 in Basyoun (in the governorate of Gharbeya in Egypt), is an Egyptian international footballer who plays as a right winger at Liverpool FC He is currently considered one of the best players in the world and probably the best Egyptian footballer in history. He also won the Champions League in 2019 by opening the scoring in the second minute of play.
Member of the Egyptian national team since 2011, he won a bronze medal in the African Cup of Nations for under-20s, he also participated in the 2011 Under-20 World Cup, at the 2012 Olympic Games , at the 2017 CAF Africa Cup of Nations during which he reached the final as well as at the 2018 World Cup in Russia. He has 67 national team selections. He is a devout Muslim and his wife is veiled and she never appears in public
-Sadio Mané, born April 10, 1992 in Sédhiou in Senegal, is a Senegalese international footballer who plays as a winger or striker at Liverpool FC. With Liverpool, after reaching the final in 2018, he won the Champions League in 2019. He finished a co-top scorer in the English Championship in 2019, won the 2019 UEFA Super Cup and the FIFA Club World Cup 2019, which earned him the title African Player of the Year 2019. He has 69 selections for the national team. He offers a hospital of 2 billion FCFA to his native village
-Riyad Mahrez, born February 21, 1991 in Sarcelles (France), is an Algerian international footballer. His father died when he was 15, which became a huge motivator. He is currently playing for midfielder and right winger in Manchester City, and was champion of England in 2016 with Leicester City, becoming the first African player to be voted best player of the year PFA in the same year. On July 19, 2019, he won the Africa Cup of Nations with the Algerian national team. He has 57 national team selections.
-Pierre-Emerick Emiliano François Aubameyang, born June 18, 1989 in Laval (Mayenne, France), is a Gabonese international footballer currently playing at the center forward position at Arsenal FC. He also has French nationality.
In 2013, he signed at Borussia Dortmund, in Germany. On January 31, 2018 the Dortmund striker signed up with Arsenal. Purchased for 63 million euros, the Gabonese became the most expensive player in the history of the London club, he scored 10 goals in 14 games for his first half London season. Thanks to his year in 2015 with Dortmund and with 46 goals scored in all competitions, he was crowned African footballer of the year, on January 7, 2016, ahead of the Ivorian Yaya Touré and the Ghanaian André Ayew.
After having honored a selection for the France hopes team in 2009, he chose, like his father, to opt for the selection of Gabon, of which he became an executive player. It counts 63 selections in the national team.
-Idrissa Gana Gueye, born September 26, 1989, in Dakar, is a Senegalese international footballer who plays as a midfielder at Paris Saint-Germain. Idrissa Gueye made his first appearance as a first team with the LOSC during the 2009-2010 French Cup match against Colmar on January 23, 2010. He was champion of France in 2011 and winner of the Coupe de France in 2011. He was a finalist of the African Cup of Nations in 2019. He has 72 national team selections.