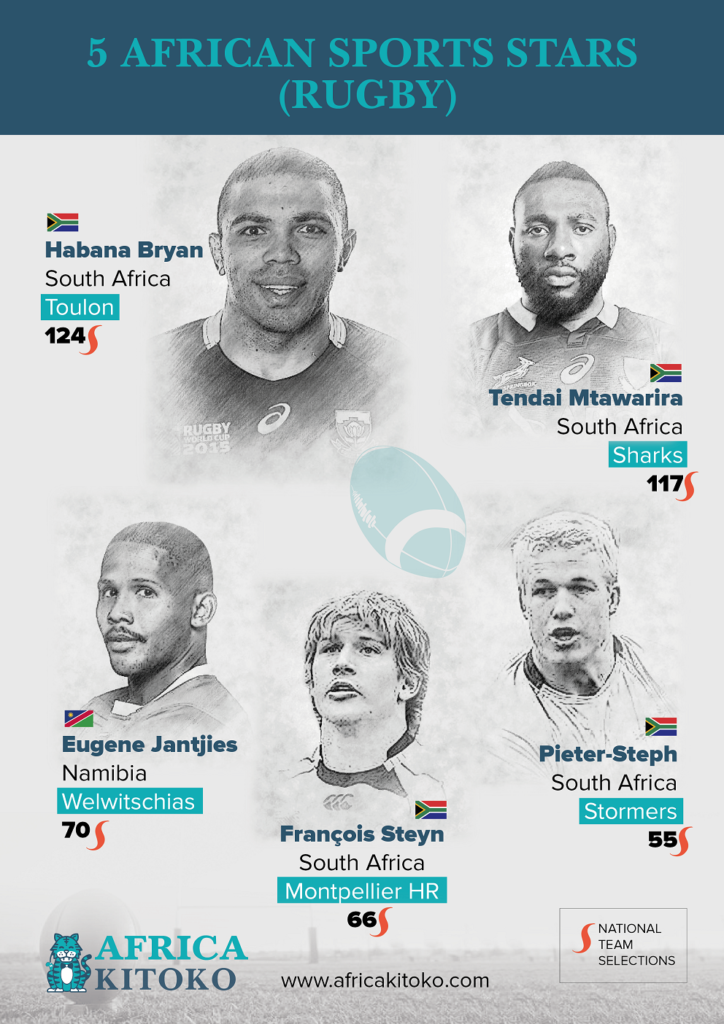 Pieter-Steph du Toit, born August 20, 1992 in Cape Town (South Africa), is a South African international rugby union player playing in the third line wing or second line positions. He has been playing with the Stormers' franchise in Super Rugby since 2016, and with the Western Province in the Currie Cup since 2016 as well. It measures 2.00 m for 120 kg. His grandfather is the former South African international Piet du Toit.
In 2019, he was voted best player in the world by World Rugby. He is on top of the world with his selection and this individual award. He has 55 national team selections.
-Bryan Gary Habana, born June 12, 1983 in Benoni, is a South African international rugby player evolving as a winger. World champion with the Springboks at the World Cup in 2007, competition in which he finished best test marker with eight achievements, thus equalizing the record for New Zealander Jonah Lomu achieved in 1999, he finished third in the edition 2015 in England where he equaled the Lomu record of fifteen world cup tries, a record he established in three editions against two for Lomu.
He is the founder of the Bryan Habana Foundation, a charity. He has 124 national team selections.
-Eugene Jantjies, born August 10, 1986 in Gobabis in Namibia, is a Namibian rugby union player. He has been playing with the Namibian team since 2007, playing as a scrum half. It measures 1.80 m and weighs 84 kg.
It is part of the selection of Namibia selected for the 2007 World Cup in France. It accounts for 70 team selections. A few weeks before joining the Stormers (his club), his father Thomas Jantjies died in hospital after being stung by a bee.
-Tendai Mtawarira, born August 1, 1985 in Harare (Zimbabwe), is a Zimbabwean rugby player who played with the South African team from 2008 to 2019. This pillar of 1.83 m and 116 kg plays in Super 15 with the Sharks franchise and, in South African competitions, with the Natal Sharks province. His fans and friends affectionately nicknamed him The Beast in French. In Durban, spectators for the Natal Sharks squad shout Beast every time the player takes a ball or tackles. He is the winner of the 2019 Rugby World Cup. He has 117 national team selections. He is the Founder of the Get Involved Foundation.
-François Philippus Lodewyk Steyn, born May 14, 1987 in Aliwal North (South Africa), is a South African international rugby union player. He most often plays in the rear or center position. It is nonetheless versatile and can play at all positions in the back lines except in the scrimmage. This young South African hope was revealed in 2007 by winning the Rugby World Cup at the age of 20, he again won the World Cup twelve years later in 2019. Skillful, agile and powerful player, he is very versatile and is renowned for the power and precision of his footwork. He has 66 national team selections.