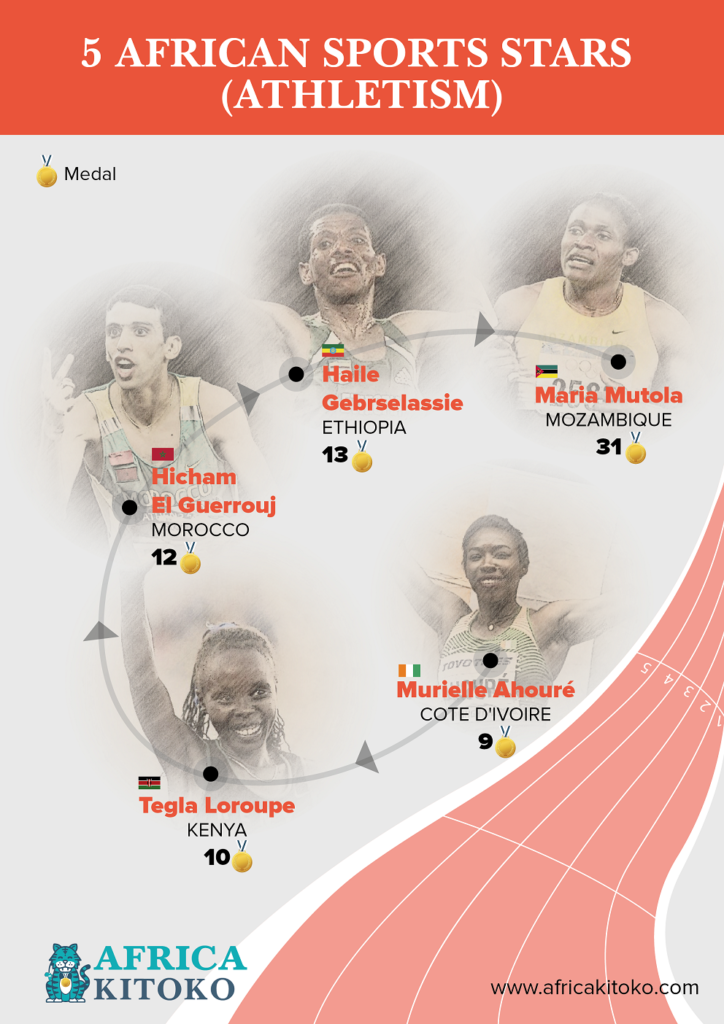 Africa is well represented in the world of athletics. Discover these 5 celebrities who are the pride of Africa.
– Murielle Ahouré (born August 23, 1987 in Abidjan) is an Ivorian athlete, specialist in sprinting. Quadruple vice-world champion in the sprint events (60m, 100m and 200m) between 2012 and 2014, she won the title of world indoor champion in the 60m in 2018. She totals 9 medals in her career. She joins UNICEF in the fight for children's rights and the education of girls in Côte d'Ivoire.
-Tegla Loroupe is a Kenyan athlete born May 9, 1973 in Kenya. She holds several world records. She is the first African athlete to win the New York Marathon in 1994. She is President of the PEACE AND SPORT Foundation. She won 10 medals in her career.
-Hicham El Guerrouj born September 14, 1974 in Berkane, is a Moroccan athlete specializing in long distance and middle distance races. He is considered the best Moroccan athlete of all time.
Holder of four world champion titles in 1,500 m from 1997 to 2003 and three other world indoor titles, he also won the 1,500 m and 5,000 m gold medals at the 2004 Olympic Games in Athens, becoming the second athlete in history after the Finn Paavo Nurmi to achieve the double in these two disciplines. He is an advisor to the Minister of Sports in Morocco. He has 12 medals in his career.
-Maria de Lurdes Mutola (born October 27, 1972 in Maputo) is a Mozambican athlete, specialist in middle distance races, and in particular 800 meters. She is the only Mozambican athlete in history, men and women combined, to have won a world or Olympic title. She is also the only athlete in history with Kenyan David Rudisha to have won four world or Olympic titles over 800 meters. She has 31 medals in her career. President of the LURDES MUTOLA foundation.
-Haile Gebrselassie was born on April 18, 1973 in Asella, in the province of Arsi, in Ethiopia. He is Olympic and world champion. He won two Olympic gold medals at 10,000 meters and four world championships at the same distance. He owns Haile Hotels & Resorts in Ethiopia. He has 13 medals in his career.