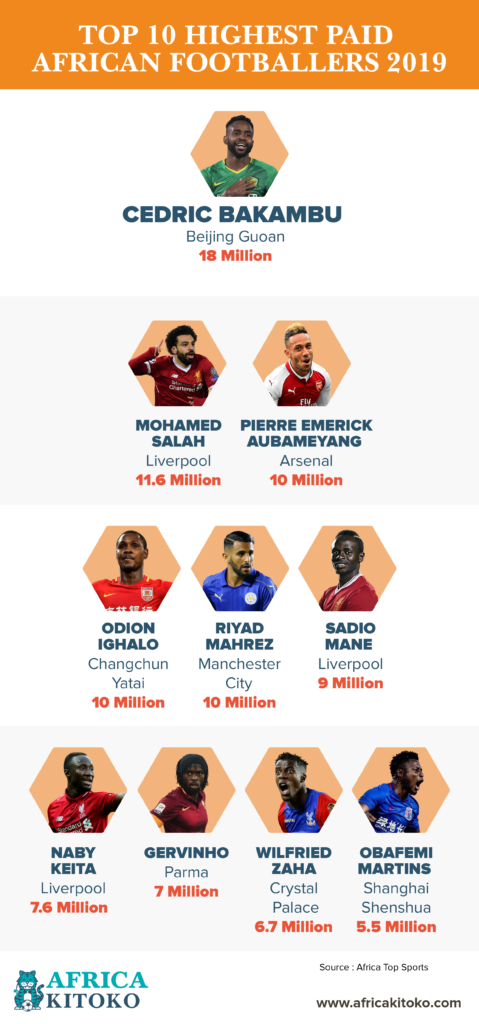 They shone in Europe, in Asia … in calendar year 2019 but do we really khow their annual salaries ? At the end of 2019, the ranking of the 10 highest paid African players was published by Coupfrancs.com.
1- Cédric Bakambu (DRC – Beijing Guoan): He narrowly missed the Chinese Super League title but can console himself with his salary of 18 million euros per year which makes him the best paid player on the continent.
2- Mohamed Salah (Egypt – Liverpool): The Pharaoh is ranked second with 11.6 million euros.
3- Aubameyang (Gabon – Arsenal): Although his team is in bad shape this season, the player still receives the staggering sum of 10 million euros.
4- Odion Ighalo (Nigeria – Changchun Yatai): Exiled to China without big news, the Nigerian earns 10 million euros annually.
5- Riyad Mahrez (Algeria – Manchester City): The Algerian, decisive in the club, is also in terms of salary by collecting 10 million euros.
6- Sadio Mané (Senegal – Liverpool): The Senegalese international is ranked 6th with a salary of 9 million euros.
7- Naby Keita (Guinea – Liverpool): From Leipzig to Liverpool, the Guinean wins the jackpot with 7.6 million euros
8- Gervinho (Ivory Coast – Parma): His fine performances in Parma are crowned with a sum of 7 million euros
9- Wilfried Zaha (Ivory Coast – Crystal Palace): He could have won more than 6.7 million euros if he had left the Eagles last summer. But for the moment, he firmly holds his 9th place.
10- Obafemi Martins (Nigerian – Without club): He moved to Shanghai Shenshua in 2019 with a salary of 5.5 million euros before becoming a free player in the same year. Despite this status, it is one of the top 10 in terms of salaries.